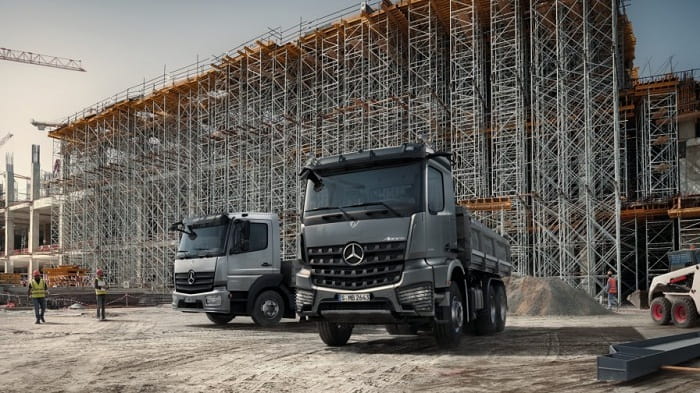 The Mercedes-Benz Arocs has always been a popular choice for construction-related transport thanks to its range of powerful engines, customizable drive configurations and a robust chassis. The German automotive giant has now refreshed the Arocs model giving it new features and enhancements for the present and future of construction transportation.
The modern construction site requires various advanced and technology-based solutions in order to be at its very best, and Mercedes-Benz understands this. This is why the firm has launched the new Arocs model with an advanced Predictive Powertrain Control (PCC). The PCC is an advanced driving aid which can save fuel through its smart autonomous driving capabilities which have been designed to favour economy. The technology will work alongside the vehicle's gearbox to make journeys as fuel-efficient as possible.
Large construction vehicles such as the Arocs can be dangerous with poor visibility. Thankfully, the new model includes even greater safety and driver-assist systems. MirrorCam replaces traditional wing mirrors with two screens either side which connect to a camera on the exterior of the vehicle. This favours aerodynamics and visibility, enabling greater efficiency and eliminates the need for the driver to manually adjust mirrors.
The MirrorCam works in coalition with the vehicle's Sideguard Assist system which can detect hazards on the co-driver's side such as a cyclist or car, and can alert the driver to prevent a collision occurring.
In addition to Sideguard Assist, an enhanced version will also become available for June 2021 which will be able to initiate automatic braking at low turning speeds if the driver fails to react to audible warnings. Mercedes-Benz Trucks is the first to introduce this system thus avoiding deaths and serious injuries being caused by vehicles turning.
A function known as Active Brake Assist (ABA) is another safety feature which can react to people and objects which could cause a collision within speeds of up to 50km/h. This will be most useful when driving through urban and other built-up areas.
The new Arocs also includes a new Multimedia Cockpit interface, replacing the traditional instrument cluster, which allows the driver to monitor the safety and assistance systems on board, whilst giving a clear overview of driving and operating conditions. A truck-specific navigation system is also included along with traffic sign recognition.