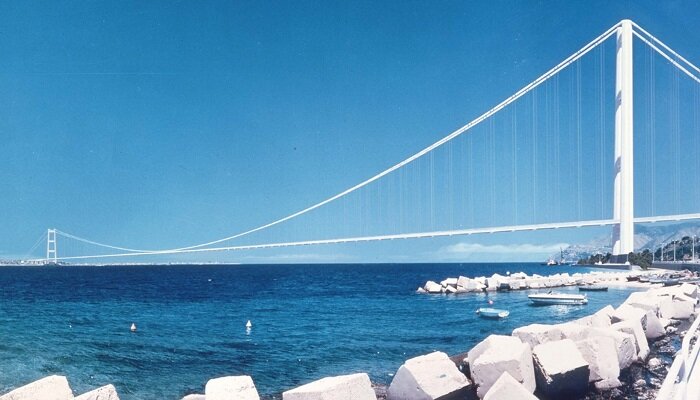 World Construction Today: The government of Italy has given the go-ahead for the construction of a suspension bridge that will connect the Italian mainland to the Sicilian Island. The bridge has already gotten approval, which was revoked in the past, but it has now received a thumbs up yet again from the government's council of ministers.
It is well to note that if the bridge were to be constructed as per its current technical specifications, it would stretch to 3666 meters with a single span of 3300 meters. If we take these figures into consideration, this bridge will be the longest suspension bridge in the world. This is going to be longer than the recently built Canakkale bridge in Turkey, which stands at a central span of 2023 meters.
Matteo Salvani, the Italian infrastructure minister, said that the Messina Bridge will help increase tourism in the region and will also aid in boosting various industries. He went on to add that the bridge is going to be built in an environmentally sustainable way and will go on to reduce greenhouse gas emissions from transport as well, with trains being able to ply between the Italian mainland and Sicily for the first time. According to the government, the design of the bridge is going to be based on the plans that were incorporated in 2011, but at the same time will look into the present safety, technical, as well as environmental standards.
The time taken for its construction will be somewhere around 6 years, and its cost is estimated at almost €8.5 million. According to Salvani, the project's initial funding shall come from the Italian ministry of infrastructure and transport as well as the finance ministry, and the cost will ultimately be covered by the toll booths on the bridge. The opposition groups in Italy have already begun to voice their concerns about cost overruns, potential environmental hazards, the risks of earthquakes across the region, and criminal involvement in the project.
That said, when one looks from the perspective of engineering, the challenge in the construction is pretty steep considering deep waters as well as fast currents between both the land masses. More details pertaining to this construction marvel are expected to be out in the coming weeks.