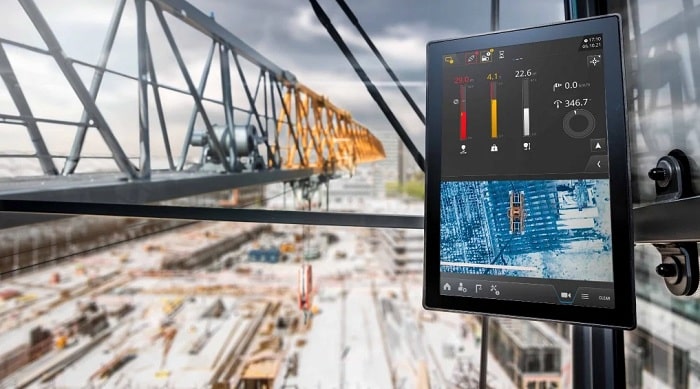 The new Liebherr EMS-4 twelve-inch display allows operators to keep key operating settings in view to ensure safe and precise lifting. Crane operators and assembly engineers can navigate their way through a touchscreen menu to find the settings that fit their needs.
Liebherr will deliver the 12-inch display as standard in EC-B and EC-H series tower crane cabins. This fourth-generation Electronic Monitoring System (EMS) brings major improvements in operability, especially in terms of crane scaling.
The EMS-4 display with the new Tower Cranes Operating System (TC-OS) user interface is the successor to the EMS-3. Liebherr enlisted the support of User Interface Design GmbH to help develop the operating system. The focus for the development process was on eliminating distractions and displaying exactly the right elements required. The result is a menu structure with easily recognizable icons and symbols.

Updated monitor menus increase operator efficiency
Crane operators and assembly engineers have specific menus, a wide range of languages and relevant units of measurement (metric and Anglo-American systems) at their disposal. The menu structure ensures that they always have an overview, even during crane operations or crane scaling in difficult conditions. This offers extra safety and a more comfortable user experience. Even in difficult lighting conditions, the anti-reflective and dirt-resistant touchscreen can still be read. There are different viewing modes available for day and night light levels and the display can be tilted and rotated.
Job site information is easily accessible with the EMS-4
All available data is visible to the crane operator in one device which allows operators to carry out lifts with precision and safety. Personalized job-related settings can be saved in a crane operator profile and retrieved at the start of a shift. Instead of having an external screen for the hook camera, the image can be integrated directly into the EMS-4.
The new display increases operator comfort with the ability to change crane cabin air-conditioning and windshield wiper settings.