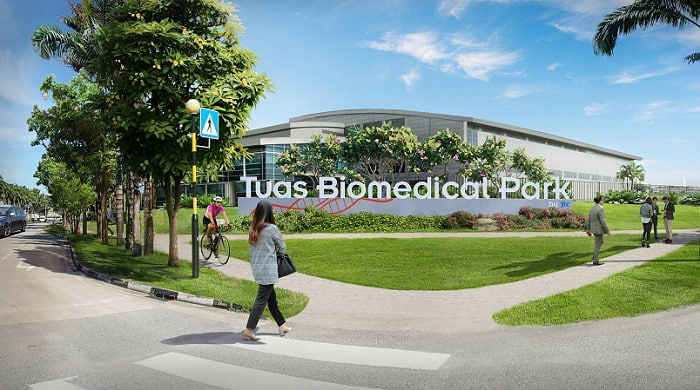 Lendlease has announced that it is commencing construction of a large-scale, greenfield vaccine facility in late 2021, a move that will boost Singapore's development of its biopharmaceutical sector.
This new facility will leverage Lendlease's digital capabilities and best practices in construction, focused on maximising quality, speed, precision and safety, as well as its deep experience in the sector. Lendlease has built the majority of Singapore's major pharmaceutical facilities and more than 90 per cent of the biotechnology facilities in the island state's Tuas Biomedical Park, a 280-hectare specialised industrial park that is masterplanned and developed by JTC, since the late 1990s.
Other than the vaccine facility, Lendlease has also been recently appointed to take on additional projects for current clients in Singapore. These works include expansion to existing facilities to enhance their capacities.
These projects underscore Lendlease's accelerated growth in the life science sector as a key sector of focus, amid an expanding global biopharmaceutical market due to factors such as demographic changes and the COVID-19 pandemic.
Lendlease's global expertise cuts across all types of requirements and needs from life sciences firms including research laboratories and manufacturing facilities to offices, cold rooms and warehousing. With common shared values for achieving safety and sustainability outcomes, most of its biomedical clients entrust all phases of development of their facilities to Lendlease, including upgrading and expansion works.
Ng Hsueh Ling, Managing Director, Singapore, Lendlease, said: "These project wins are a testament to Lendlease's ability to deliver facilities with the highest standards of safety, quality and efficiency. We are humbled to be working alongside many of the world's biggest pharmaceutical and biotechnology companies to help realise Singapore's ambition to be the next-generation hub for life sciences."
Justin Gabbani, Chief Executive Officer, Asia, Lendlease, added: "The life sciences sector is one of our key focus areas, where we are looking to apply our expertise across the integrated real estate value chain. As we continue to expand our experience and elevate Lendlease's life science integrated development capabilities, I am confident that Lendlease is well-poised in providing one of the best end-to-end solutions for future projects across Asia."
Leveraging our global platform, these wins come close on the heels of a new partnership in the US with an institutional investor which was forged in March 2021, to develop the 60 Guest Street project in Boston, Massachusetts. The 320,000 square feet hub will comprise a nine-storey, state-of-the-art building devoted to the life sciences with world-class facilities and amenities.
About Lendlease
Lendlease is an international real estate group with core expertise in shaping cities and creating strong and connected communities. Our purpose is Together we create value through places where communities thrive. Headquartered in Sydney, Australia, and listed on the Australian Securities Exchange, Lendlease has operations in Australia, Asia, Europe and the Americas, with approximately 10,800 employees internationally. Our core capabilities are reflected in our operating segments of Development, Investments and Construction.