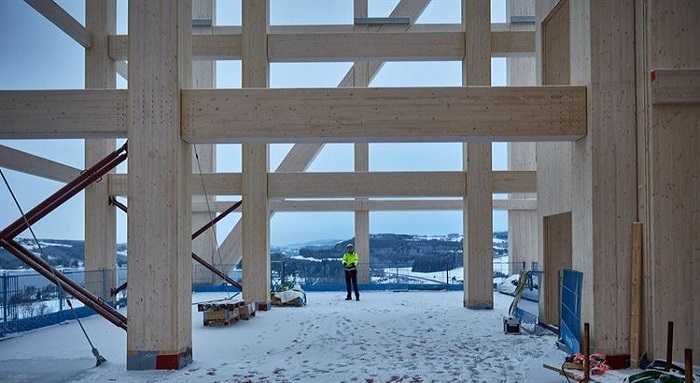 World Construction Today – The construction of an eco-friendly 182-meter-tall skyscraper in central Sydney, which will use an eco-friendly wood product, has begun. It is being built by construction companies from Japan and Australia.
The 39-story Atlassian Central is scheduled to have its development finished in 2026. According to recent press releases from the companies, Obayashi of Tokyo and O'Brien of Sydney, the structure will house offices, accommodations, and retail establishments.
The firms claim to operate the tower fully on renewable energy and to reduce carbon dioxide emissions throughout construction by at least 50% when compared to a typical building project.
A hybrid-timber construction with structural steel and cross-laminated wood, or a wood panel product constructed from glued layers of sawed lumber, will be located on the seventh story or higher.
The product is supposed to be lighter than concrete and produce less carbon dioxide. According to the Japanese construction company, it can also be recycled for other purposes. According to the two builders, below the seventh story, including the basement, a concrete slab will be used.
According to Built CEO and managing director Brett Mason, nothing about this endeavour is normal. It was created with the intention of serving as solid evidence of what future buildings should resemble in terms of their low environmental effects during both creation and operation.
Obayashi has been promoting the building of low-emission wood structures and expanding the use of environmentally friendly lumber in its domestic market. The Japanese company finished an 11-floor, 44-meter-tall building in Yokohama in March, making it the highest in the country to have all of its key structural components made of wood, including columns, floors, and walls.
According to Obayashi, the company aims to build a sustainable society by growing and encouraging the use of recyclables such as lumber and wooden products, and it will also tackle societal issues like being carbon neutral.
Obayashi and O'Brien entered into a strategic relationship in 2016 to work together on specific large-scale building projects in Australia.