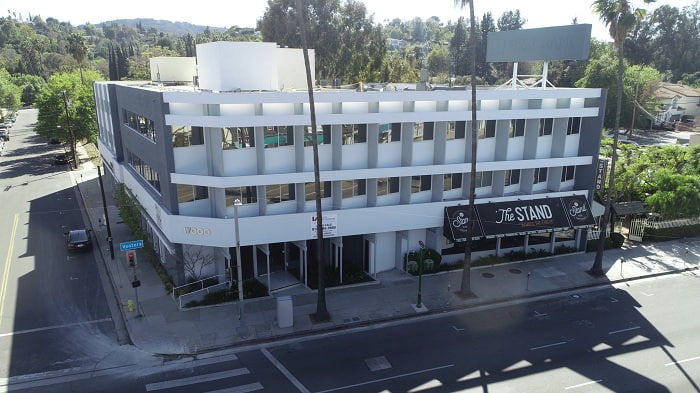 Lee & Associates – LA North/Ventura brokers Scott Romick, principal and managing director, and Darren Casamassima, principal, have negotiated the sale of 17000 Ventura Boulevard in Encino. The property, which sits on a large land parcel and totals approximately 42,000 SF, sold for $13,200,000. Romick and Casamassima represented the seller, 17000 Ventura Blvd., LLC. Jared Smits, principal at Lee and Associates-LA North/Ventura represented the buyer 17000 Ventura, LLC. 
"This property is an excellent opportunity for an investor to own a prime commercial office asset on Ventura Boulevard in the Valley's central business corridor surrounded by class A high rises owned by large institutions," said Scott Romick. "It has many features that tenants and businesses are looking for today – low rise, easy access, good parking, open-air spaces with private balconies and tenant outdoor seating."
Originally built in 1960 and remodeled in 2020, the buyer plans to hold the property as an investment and add it to his nearby existing holdings, which are currently highly leased. Since the close of escrow, two leases have been signed and another is in negotiations to bring the building to above 90% occupancy.
"Office investments in good locations are still opportunistic for smart investors," adds Darren Casamassima. "For many of our clients, now is a good time to take advantage of lower prices and be positioned for the potential for recovery." 
About Lee & Associates – LA North/Ventura, Inc.
Celebrating 40 years of leadership excellence in commercial real estate, Lee & Associates is the largest broker-owned firm in North America with locations across the U.S. and Canada. With more than 900 brokers nationwide, Lee & Associates provides a wide range of specialized commercial real estate services on a local, regional, and national level. Lee & Associates-LA North/Ventura, Inc. provides industrial, office, retail, and multifamily/investment and development land brokerage services across the San Fernando Valley, Conejo Valley, Antelope Valley, and throughout Ventura County.