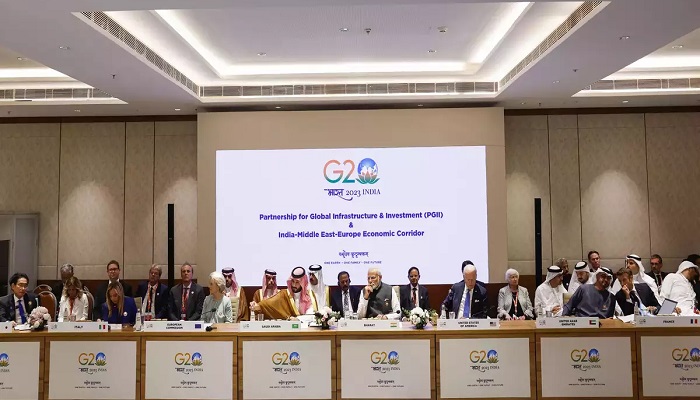 In connection with the establishment of the India-Middle East-Europe Economic Corridor during the G20 Summit held in New Delhi on a memorable Saturday, US President Joe Biden articulated his enthusiastic support for this transformative regional investment. In his remarks, President Biden underscored that the significance of this initiative extends well beyond the realm of infrastructure development.
President Biden proudly announced on a prominent platform, "I am delighted to announce that the United States, in collaboration with India, Saudi Arabia, the United Arab Emirates, and key European nations including France, Germany, Italy, and the European Union, has finalized a groundbreaking agreement for the creation of a new economic corridor, the India-Middle East-Europe Economic Corridor."
This visionary project goes far beyond the mere laying of tracks; it represents a paradigm-shifting regional investment that will have far-reaching implications.
Prime Minister Narendra Modi echoed these sentiments, emphasizing that the India-Middle East-Europe Economic Corridor holds immense potential to serve as a symbol of collaboration, innovation, and collective advancement.
Meanwhile, aboard Air Force One, Jon Finer, the Principal Deputy National Security Advisor of the White House, provided insights into the United States' strategic railway deal with India, the UAE, and Saudi Arabia. He highlighted, "President Joe Biden, in partnership with India, Saudi Arabia, the UAE, France, Germany, Italy, and the European Union, has unveiled a momentous commitment to work collaboratively on the development of a new economic corridor, the India-Middle East-Europe Economic Corridor."
Finer went on to explain the transformative nature of this partnership, underscoring its potential to unleash a new era of economic activities spanning from Europe to Asia. This corridor, intricately linked with ports and connected to the Middle East, will create a novel interconnected route designed to facilitate global trade, expand reliable access to electricity, facilitate clean energy distribution, and strengthen telecommunication links.
Prime Minister Modi, in a reflective message shared on a prominent platform, expressed, "As we embark on the journey of shared aspirations and dreams, the India-Middle East-Europe Economic Corridor promises to be a beacon of cooperation, innovation, and shared progress. As history unfolds, may this corridor stand as a testament to human endeavor and unity across continents."
During the G20 Summit, Prime Minister Narendra Modi, in collaboration with the United States, Saudi Arabia, and the European Union, unveiled a pioneering initiative. Together, they announced their ambitious plans to initiate a massive transportation corridor, encompassing both shipping and railway connectivity, which will span from India to the Middle East and Europe.
The announcement was made in the presence of US President Joe Biden, Saudi Arabia's Prime Minister Mohammed bin Salman, and European Union leaders, marking a historic agreement that captured the world's attention.
Furthermore, this ambitious project has the potential to serve as a substantial response to China's Belt and Road Initiative, a comprehensive plan aimed at connecting various parts of the world to the Chinese economy.
Jon Finer, during a briefing with reporters, outlined three fundamental justifications for the project. Firstly, he emphasized that the corridor would significantly boost economic prosperity among the participating countries by enhancing the transportation of energy resources and digital communications. Secondly, the initiative aims to address the infrastructure deficit that has been impeding growth in lower- and middle-income nations. Lastly, Finer suggested that the project could play a vital role in reducing tensions and instability in the Middle East, thereby contributing to overall regional security.
The White House, in a broader context, is working to strengthen the G20 as an international forum, even as Chinese President Xi Jinping and Russian President Vladimir Putin chose not to attend. Nevertheless, China and Russia are represented at the summit, potentially making it challenging for the G20 to produce a joint statement regarding the ongoing situation in Ukraine, as Finer pointed out.
On the sidelines of the G20 summit in New Delhi, a multinational rail and shipping project, linking India with the Middle East and Europe, was announced. This significant development is widely seen as a challenge to China's economic ambitions in the region.
The corridor, involving India, Saudi Arabia, the United Arab Emirates, Jordan, Israel, and the European Union, promises to boost trade, facilitate the delivery of energy resources, and improve digital connectivity.
Jake Sullivan, Biden's national security adviser, emphasized that this network reflects Biden's vision of "far-reaching investments" facilitated by effective American leadership and a willingness to collaborate with other nations as partners.
Sullivan articulated that the enhanced infrastructure resulting from this project will drive economic growth and foster unity among Middle Eastern countries. It is poised to establish the region as a hub for economic activity, transitioning away from being a "source of challenge, conflict, or crisis," as it has been in recent history.
President Biden's objective is to counter China's Belt and Road Initiative, which seeks to expand China's global infrastructure footprint. By presenting the United States as an alternative partner and investor for developing countries within the G20 grouping, Biden aims to reshape the global infrastructure landscape.
During an event announcing this groundbreaking initiative, President Biden remarked that this pact would unlock "endless opportunities" related to clean energy, electricity distribution, and the laying of cables to connect communities.
Prime Minister Narendra Modi, hosting the summit in India, emphasized the long-term significance of this connectivity initiative, stating, "Today, as we embark upon such a significant connectivity initiative, we are sowing the seeds for future generations to dream bigger."
"Enhancing connectivity with all regions has been a key priority for India," Modi added. "We believe that connectivity is not only a means to increase mutual trade between different countries but also to enhance mutual trust."
The deal has been described as a "game-changer," noting that officials hailed it as an economic corridor designed to link India, the Middle East, and Europe. This corridor encompasses railway lines and shipping routes passing through the UAE, Saudi Arabia, Jordan, and Israel.
While specific details are still emerging, US and European officials present during the announcement hailed it as a historic development. They anticipate that it will reduce trade time between India and Europe by a substantial 40 percent.
Remarkably absent from this announcement was China, indicating that this project is a strategic response to China's massive Belt and Road infrastructure initiative, which was unveiled in 2013 and aimed to connect Asia, Africa, and Europe. This new initiative serves as a counterweight, signaling a significant shift in regional dynamics.
Saudi Arabia's Al Ekhbariya TV quoted Crown Prince Mohammed bin Salman as expressing that the project would encompass pipelines for electricity, hydrogen, and railways, contributing significantly to international energy security.
The deal holds the promise of benefiting low- and middle-income countries in the region, allowing the Middle East to play a pivotal role in global commerce. Jon Finer, the US deputy national security adviser, emphasized that it aims to connect Middle Eastern countries through railways and link them to India via ports, streamlining the flow of energy resources and trade from the Gulf to Europe. This, in turn, is expected to reduce shipping times, costs, and fuel consumption.
A memorandum of understanding for the deal was set to be signed by the European Union, India, Saudi Arabia, the United Arab Emirates, the United States, and other G20 partners.
Radha Kumar, an independent analyst, expressed enthusiasm for this initiative, describing it as a "wonderful initiative" that offers an alternative to China's Belt and Road Initiative.
She noted, "China's powers are increasing so rapidly that many countries feel the need to have alternatives." Kumar further explained that while this new project offers connectivity to India, it does not necessarily undermine China's global infrastructure project, which has its own independent existence.
This announcement comes amid US efforts to broker a broader diplomatic deal in the Middle East, one that could lead to Saudi Arabia recognizing Israel, further reshaping the geopolitical landscape of the region.