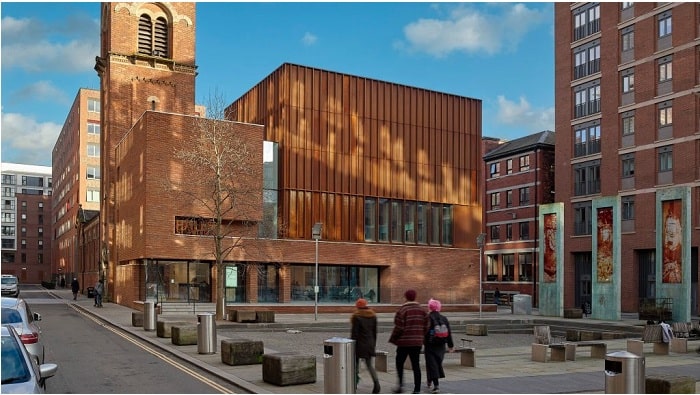 33 different types of specially-shaped, Imperial linear handmade bricks were used to complete a three-storey extension to the renowned Hallé St Peter's building in the Ancoats area of central Manchester.
Working closely with architects Stephenson STUDIO – who won an international RIBA competition to design the extension – supplier Imperial Bricks created a bespoke linear brick to ensure 'The Oglesby Centre' complements the original Grade II listed building.
The new 'Regal Blend' features a special combination of weathered bricks with natural shade variations of red to orange. The transition between the old and new brickwork has been described as 'seamless' by local press.
Since its conversion from a 19th Century church in 2013, the famous Hallé Orchestra has used St Peters for rehearsals, recording, and small performances.
However, the space was too small to accommodate the building's many different users, including the Hallé choirs and youth orchestra – as well as its role as a private hire venue.
The Oglesby Centre extension takes the form of a steel structure, echoing the shape of the old water tanks used in the area's many former mills, supported on a brick plinth.
The £4.7 million project echoes the industrial past of the area, complementing the original building, while making a bold statement with its angular design. The result is a stunning addition to the revitalised area.