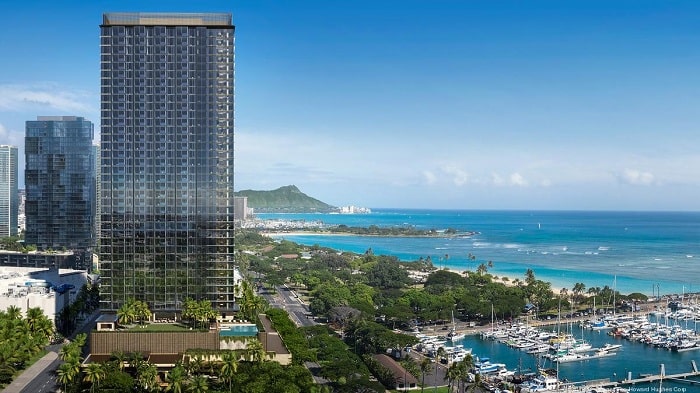 The Howard Hughes Corp. has submitted applications for building permits totaling more than $327.4 million for the seventh tower in its Ward Village community in Honolulu and plans to break ground on the 350-unit condominium tower named Victoria Place early next year.
The developer currently has two other buildings — the 750-unit Aalii and the 429-unit Koula — under construction, so will have three active sites going at the same time next year.
Four building permit applications have been submitted to the City and County of Honolulu's Department of Planning and Permitting in the last three weeks, starting with a sitework permit worth $1.6 million filed July 24, then the permit for the new tower with a value of $259.8 million filed Aug. 6. A foundation permit worth $8 million was filed on Tuesday and an application for a superstructure permit with a value of $58 million was filed Wednesday.
The Howard Hughes Corp. said last week that 69% of the units at Victoria Place have sold since sales started in January.
"We have been encouraged by the momentum and support for Victoria Place," Doug Johnstone, president of the developer's Hawaii region, told Pacific Business News in an emailed statement. "This allows us to progress toward a groundbreaking in early 2021 and the continued maturation of the Ward Village community."