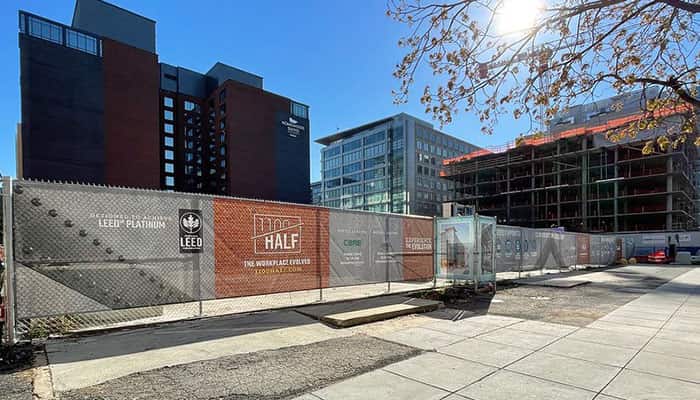 No matter how established and experienced a construction company might be, there is always room to improve a budget and save as much money as possible—especially on printed advertising. While most construction businesses know their way around shopping for the best prices for supplies, how to hire organised and productive management, making sure that only the most skilled workers are part of the team, and preparing for all possible environmental delays. But there is one crucial aspect of construction planning that is often overlooked. Underestimating the cost of the entire construction project, especially when it comes to printed advertising, can have a disastrous effect on not just budgets and expected profits—but also on the future of the construction company itself.
As the construction field evolves, often the focus of an overall budget fails to consider the many opportunities that can come with advertising at the work site itself. If a job site doesn't communicate its name, what it does, and makes an effort to connect with a particular community around that site, the chance to connect, make a lasting impression, and potentially secure future work can be wasted. But printed advertising can be affordable with the right strategy and even a small budget.
Here are some tips on how to save money on printed advertising that can help all construction companies invest in their own marketing:
1. Fence Signs
Consider the fence installed around an active construction site to be a billboard of sorts. Placing advertising on a billboard is cost-prohibitive for many companies, but if a construction company already has a fence, the only thing to do is affix printed fence signage to it. The simplicity and effectiveness of placing a sign on the fence at a construction site has proved time and again to bring future business to the company.
2. Compare Printing Options
Some types of printing cost more than others. Most marketing gurus that create printed advertising will offer offset printing or digital printing. It is important to understand the differences between the two in order to make the best choice for a company's needs.
Offset printing uses plates that transfer the customer's image or message using ink on a rubber mat, before the rubber is then rolled onto paper and transfers the image for the final product. Customers often select this type of printing when they want large quantities of product printed, as the offset presses are exceptionally efficient. Another advantage is that offset printing is capable of authentic colour recreation and sharp, skilful printing results.
Digital printing happens the way most people think of it, through the use of toner and liquid ink. Most printing experts recommend that anyone who needs small quantities and specialised detailing should select digital printing. Some printers are able to provide personalised marketing, inserting variable data that details a business's information. This type of printing can customise colours, insert artwork, and specific text. Postcards, envelopes, brochures, catalogues, and more are ideal for digital printing.
3. Check Your Design
Take the time to go through every single aspect of the design created as well as the artwork files given back from the printer. Believe it or not, there may be an extra charge for changes when sending a final project to be printed. If there is a discovery of one or more errors at this point in the project, there could even be a charge for a second print. Not only will there be a number of useless printed pieces of advertising that cannot be used and need to be discarded, there's now a need to pay for another set and on most occasions this additional time will result in delays. Construction relies on tight schedules and if a printing project is delayed, it can have a negative impact on the overall project and potential profits.
4. Consider Light Paper or Other Materials as They May Be Cheaper
A good printer will provide customers with a variety of different materials for their finished project. Ask about the potential options available for each project. Default stock paper may be the most affordable for letters, brochures and other smaller advertising projects. For more heavy-duty projects like printed fence signage, the lightest and cheapest material may not be the best choice. Any money spent on a thin, cheap material for a fence sign is likely to be wasted. With wind, dust, and debris that may be blowing around on any construction site, the sign is likely to tear and therefore become useless. The investment into a heavier duty material for a printed fence sign is better value in the long run. The sign should be able to be used multiple times and the one-time investment in a better material should cost considerably less than several cheap alternatives.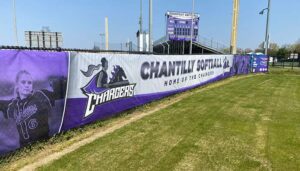 5. Take the Time to Get it Right
One of the biggest mistakes any business owner can make is to cut corners and rush through any part of their construction plans. Take the time to check the advertisement's design, the logo, contact information, and printing options. Be sure to communicate that a printing project does not need to be finished before a reasonable deadline as some printers will charge extra for what they consider to be a rush delivery. Plan ahead for all of the printed projects that are expected to be purchased for a set amount of time. With patience and clear details, it is more likely to cost less in the long run.
Conclusion
Some construction companies believe that the only way that they can stay within their budget is to eliminate the printed advertising and hope for the best. They believe that the cost of printed advertising is far too high for any potential revenue gained after ordering them. But experts argue that a construction business cannot afford to drop advertising, especially while working on an active site.
Printed advertising continues to grow and streamline the process of printing for all businesses. If a competitor recognises the value of printed advertising and others don't, there is a very good chance the competitor will thrive while construction companies who did not account for this possibility are likely to struggle or go out of business. Stand out from the competition while saving money by planning and budgeting appropriately for printed advertising.