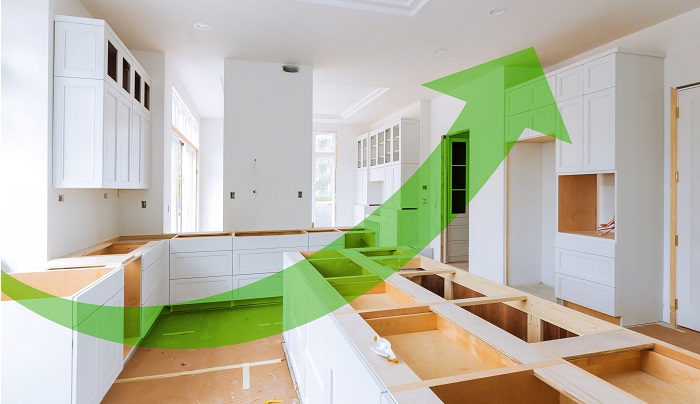 A recent insight on the home improvement service market has identified the surging demand for remodelling homes as driving the home improvement service market's growth in the future.
It is well to be noted that the renovation of real estate is referred to as home remodelling. This brings with it making alterations as well as enhancements to a home, or any other real estate for that matter. House improvements, apparently, refer to both commercial as well as company assets, besides residential buildings. One of the US-based online recruitment service provider states that American consumers went on to spend $538 million at home improvement stores in 2021. Apart from this, in 2020, 76% of American home owners finished a home renovation project.
Moreover, the renovation sector in the US generated $1.1 billion in sales in 2021. The home renovation market across the US is anticipated to grow at a CAGR of 4.1% until 2027. Because of this, the rising demand for home remodelling services is pushing growth in the home improvement service market.
Notably, the worldwide home improvement service market is anticipated to grow to $343.8 billion in 2023 from 324.8 billion last year at a CAGR of 5% or more. Furthermore, the home improvement market is forecast to grow to $423.9 billion in 2027. It is well worth noting that technical advancements are picking up pace when it comes to home improvement market trends. Modern computer-led tech like 3D software as well as visualisation applications has inspired home owners to make enhancements to their homes. Manufacturers, on the other hand, are aiming to come up with innovative products like doors and windows that open in no time and that to with ease.
Innovations like these enable market leaders to gain a competitive advantage. A door and window manufacturing firms from the US launched an easy-slide operator in December 2020. This new hardware solution goes on to offer a solution that is significantly smoother when it comes to operating it. This innovative modern design brings modern tech as well as aesthetics to the door and window industry.
Interestingly, in 2022, North America happened to be the largest region as far as the home improvement services market is concerned. The worldwide home improvement services market is analysed by type into kitchen renovation plus addition as well as bathroom renovation plus addition, replacements pertaining to exteriors as well as interiors, system upgrades, and other types. By city type into metro cities, non-metro cities, and towns, and by buyer age too, with slabs starting from under 35 to 35 to 54, 55 to 64, and 65 and above.