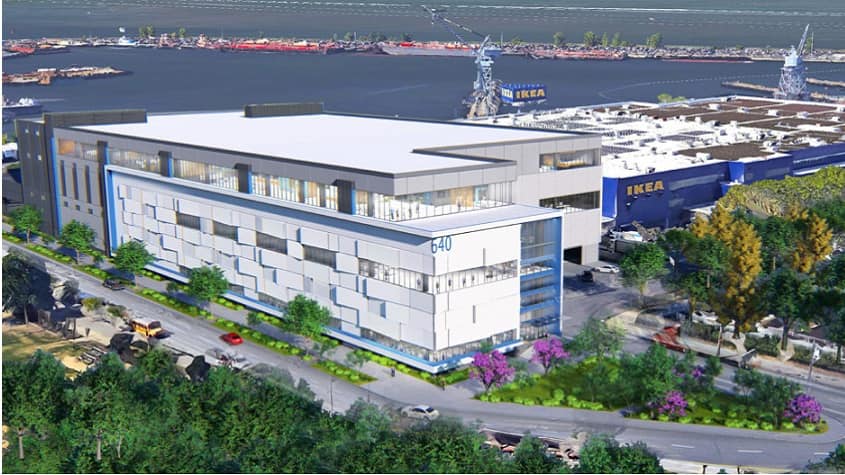 A joint venture between DH Property Holdings and Goldman Sachs Asset Management Private Real Estate has retained Hollister as design builder to lead the design, planning and construction of the first multi-level e-commerce distribution center on the East Coast.
"With vacancies at historic lows and the need for last mile distribution centers in densely populated infill locations continuing to rise, it is natural for us to look to build vertical. We are excited to partner with Goldman Sachs and are confident in the team we have assembled, Hollister Construction, Ware Malcomb, Langan Engineering and Bohler Engineering, to realize this project. We are proud to be paving the way in our market and are confident that future tenants will recognize the benefits this product can bring their clients," Dov Hertz, Principal of DH Property Holdings.
Strategically located in the borough's Red Hook waterfront district in Brooklyn, the 3-story, 370,620sf facility will provide key last mile distribution to meet the needs of manufacturers and retailers looking for next day delivery to the end user.
This project is a culmination of our many years of experience delivering millions square feet of Class-A industrial warehouses, large-scale structured parking and nearly 2M square feet of urban infill self-storage facilities in the boroughs of the tri-state area. Hollister has retained design firm, Ware Malcomb, geotechnical consultant, Langan Engineering and site civil engineer, Bohler Engineering, to lead the design.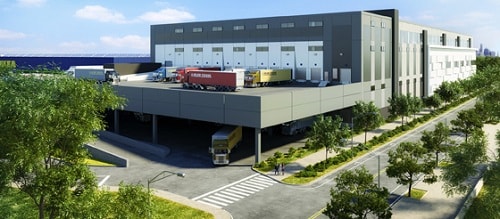 "There is tremendous demand in the New York metropolitan area for last-mile facilities," said Robert Kossar, Managing Director of Jones Lang LaSalle. "Last-mile fulfillment centers are extremely important for ecommerce companies, as these facilities serve as the final leg of a product's journey before it is shipped to a customer. This project is the ultimate in last mile, urban logistics—right in NYC!. We are proud to be part of this incredible team at 640 Columbia Street."
640 Columbia Street will meet the demand for efficient warehouse and distribution facilities in urban infill locations providing end users with facilities that are currently not offered in the market. The project is expected to break ground in 2018.  
 
"The Hollister team is very excited to be working with DH Property Holdings and Goldman Sachs Asset Management Private Real Estate to bring this first of a kind facility to the East Coast. We have created a very collaborative environment  that allows all partners to evaluate and propose ideas as we work through the preconstruction phase," Vincent Solano, Vice President of Preconstruction.