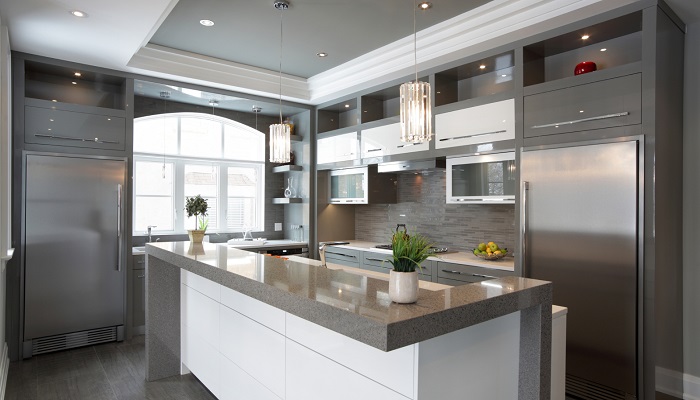 When homeowners want to remodel their kitchens, it is up to their kitchen and bath remodel professional to help them choose the right materials for their needs. Sometimes, what the customer wants isn't always the best choice for their kitchen and their remodel consultant has to explain why a different option is better. Here are some tips on how to make sure you recommend the right materials for a customer's kitchen remodel.
Function
Determine where the "kitchen triangle" will be, as the materials used in this section must be resistant to heat and condensation. It must also be able to withstand various food items placed on its surface. The "kitchen triangle" is the three points that create the triangular-shaped section where the chef moves while they are preparing a meal. These three points are the refrigerator, sink, and oven or stove. Often, materials used in this section are stainless steel or ceramics and are primarily utilitarian in nature.
Of course, utilitarian doesn't mean ugly. You can still help your customers choose the best-looking materials for the "kitchen triangle" to ensure it looks good and is functional as well. Other areas in the kitchen can have less-durable materials such as natural stone, wood, and glass, but always consider the function of any space before choosing the materials.
Lifestyle
Not everyone uses their kitchen strictly for meal preparation. In fact, a recent study found that 63% of families use at least part of their kitchen as a work or study space. This has risen in the past few years as a result of the remote working trend that began in earnest with the pandemic in 2020. For this reason, some materials that are appropriate for cooking may not be appropriate for a desk. For example, stone is great for kitchen countertops, but it's hard to write on if you do it a lot for work or school.
Budget
Certainly, all kitchen remodelers must take their customers' budgets into account when recommending materials. Some materials will simply be out of their price range, even if they are the best materials for their functionality and the customer's lifestyle. The good news is that stainless steel, which is excellent for most kitchen functions, is one of the least expensive options available, and with modern aesthetics, it fits nicely with current trends as well.
Copper and natural stone are popular mid-range material options that many customers like, but copper can be difficult to use in kitchens where a lot of activity takes place because it can easily dent. Stone is wonderful for its durability and heat resistance, but it might not fit a customer's style or needs, particularly in the case of a family using the kitchen for a part-time office. Zinc, wood, marble, and pewter are all more expensive choices, but fit a modern aesthetic nicely and are usually up to the challenges of an active kitchen.
Conclusion
While you want to deliver exactly what a customer wants for their kitchen remodel, you  have the responsibility to make sure their choices are a good match for their needs. Use these three tips to guarantee you'll get your clients the materials that are right for their kitchen.