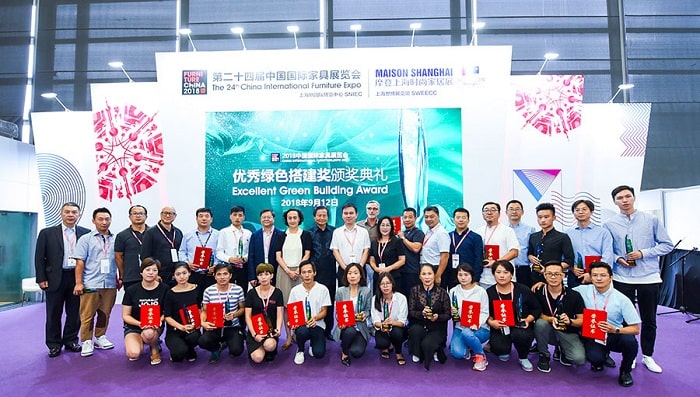 Booth construction, one of the key basis of every exhibition, would consume a large number of light construction materials within one week.
Green booth construction is how exhibitions practise the environmental friendly responsibility by taking lower waste as well as producing higher efficiency during the booth construction. Instead of the traditional materials and structures, green booth construction encourages the use of flexible structure with recyclable materials (such as aluminium alloy).
Organizer as it is, UBM Sinoexpo is also practising The Regulations on the Management of Domestic Wastes in Shanghai since applied. In 2018, Furniture China (totally two venues, over 40 halls with around 3,500 exhibitor booths) added a new prize – Green Booth Construction Awards – to stimulate exhibitors to take responsibility for sustainable development. This award was set as the attitude towards a recyclable and reusable booth construction guideline.
The principle of Green Booth Construction Awards admires the rational use of resources, which measures each candidate by the adoption of both material utilization and functional completeness of their booths. In coordination with Shanghai Polytechnic University as academic consultant, UBM Sinoexpo launched the program in July, 2018. Total 18 companies were honoured with the award in 2018, according to their booth design, material recyclability and safety factor:
To provide a platform for global brands and buyers to achieve business success, Furniture China is not only optimizing the quality of service and products, but also taking action in response of the Sustainable Development Goals raised by U.N. to actualize the "responsible consumption and production" for next generation.