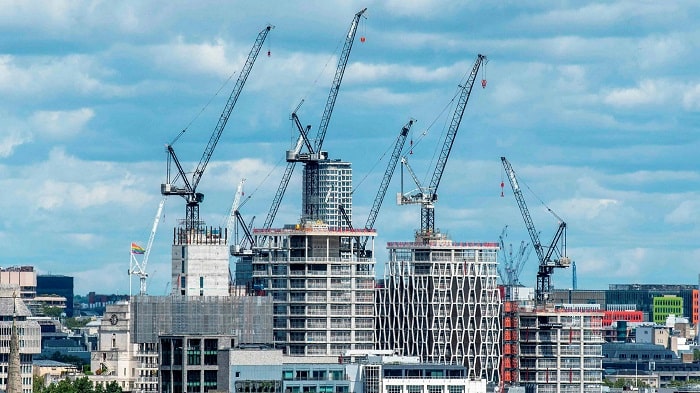 The UK construction sector is indeed facing an increasingly not-so-promising outlook as the rise in mortgage rates as well as the cost-of-living crisis have sent shockwaves across the sector.
As per the Construction Products Association, the sector is now on the verge of severe recession, primarily driven by prominent declines when it comes to private housing repair, maintenance, and improvement as well as private housing new build—two critical sectors within the construction segment.
It is well to be noted that CPAs Summer Forecasts recently went on to publish a pretty grim picture for the sector's immediate future. The forecasts go on to signal that UK construction output is all set to dip by 7% in 2023, and if at all there are any prospects of recovery next year, they are anticipated to be very slim, with a growth rate as low as just 0.7%.
These latest forecasts are a stark contrast to the previous year's optimism. The CPA had initially gone on to predict a growth rate of around 1.6% for this year and another 2.5% for 2024. That said, unforeseen economic shocks such as Liz Truss's becoming PM and Ukraine's invasion have gone on to drastically alter the spectrum.
It is well to be noted that CPAs quarterly forecasts have gone on to worsen progressively since last summer, with every ongoing update pointing towards a grimmer economic outlook. In another update, a very recent one, it has gone on to project a dip of 7% in construction output for this year, thereby indicating a situation that is undoubtedly worsening.
Private Housing new builds and private housing RMI, which happen to be the construction industry's biggest sectors, are anticipated to bear the brunt when it comes to recessionary pressures. Private housing output, which happens to be one of the prominent contributors of £41 per year to the country's economy, is anticipated to get hit the hardest. Because of this, starts in private housing are expected to dip by 25% this year, with output as well as completions also going on to experience a prominent 19% decline. CPA is hopeful of having a slow progress within the sector, commencing in the 2024-second half with a forecasted surge of 2%.
Apparently, the private housing RMI vertical, which contributes £29 billion to the UK's economy, has also faced issues because of rising inflation and interest rates and declining real wages. Incidentally, the sector's output is anticipated to contract by 11% this year before showing growth signs of 2% in 2024, which is in sync with the anticipated recovery when it comes to household finances.
Despite the fact that there is a gloomy outlook when it comes to the private housing sector, infrastructure activity is anticipated to be comparatively robust because of the ongoing prominent projects like Thames Tideway Tunnel, Hinkley Point C as well as HS2. Although it is also expected that the infrastructure sector is in all possibilities going to come across headwinds, partially offset due to delays by the government for new roads as well as rail projects and budgetary constraints related to councils.
Professor Noble Francis, CPA's economics director, did express his concern about the government's lack of investment as well as commitment towards the construction sector, given its major role when it comes to employment and critical infrastructure provision.
Although the forecast of the CPA points out to a recession that's unstoppable, other indicators like the purchasing managers' index have gone on to show the construction sector's resilience in the first half of 2023. That said, if the predictions by the CPA are accurate, a dip in the PMI may also be a strong possibility.
As the UK construction sector passes through uncertain waters, stakeholders are hoping to have measures that are proactive, let the investments balance the sector, and also support its major contribution to the UK's progress as well as productivity.