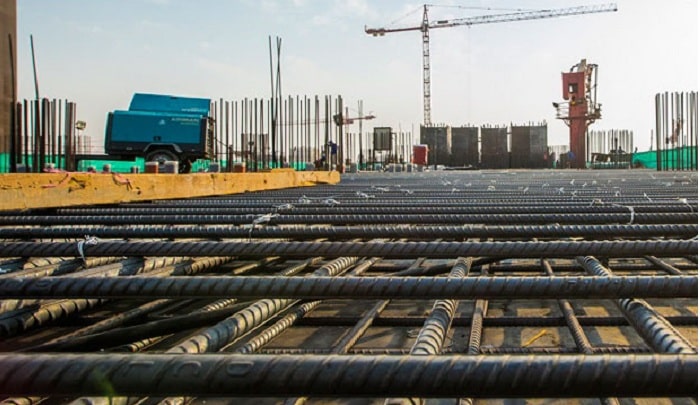 Concrete continues to be the conventional material of choice for engineers and architects in the Middle East and North Africa region, allowing them to design and create some impressive edifices.
However, the fact remains that its characteristics have multiple limitations – especially apparent when it comes to floor-to-floor construction heights and long, open spans.
Concrete is not always the best choice for sustained load bearing use in certain applications. Its weight and strength are also restrictive.
On the other hand, utilising steel frame construction can mean the difference between building a limited structure and one that perfectly addresses the client's needs.
Furthermore, with today's advances in steel manufacturing, the sheer versatility of steel gives architects the freedom to achieve some of their most ambitious visions.
In the prevailing construction landscape, structural steel is an essential component of major infrastructure projects such as airports, museums, stadiums, bridges, shopping centers and commercial buildings in most developed countries with steel cladding adorning the facades of iconic structures worldwide.
Steel construction is gaining popularity all over the world. In the last decade, many of the greatest architectural wonders have been constructed using structural steel.
The US-based Council on Tall Buildings and Urban Habitat recently reported that the number of composite multi-level projects over 200 metres that typically comprise a steel frame with metal decking, rose 54% worldwide.
With usage increasing globally, and the development of landmark projects such as Ferrari World, Cleveland Clinic, Sheikh Zayed Grand Mosque, Burj Khalifa, and Dubai Mall, there is no doubt that structural steel will soon find greater uptake in the construction industry in the UAE and the wider region as well.
A key reason that steelwork in major construction projects is on the rise is builders are becoming more attuned to the advantages of using the material in easing onsite risks, speeding development for earlier handover, and its obvious environmental benefits.
In addition, structural steel has a greater aesthetic appeal, when compared to concrete and rebar.
Structural steel frames provide designers with a wide range of options in addressing a project's visual elements. It can be rolled, curved, and integrated into all sorts of avant-garde building shapes.
It is easy to argue the business case for structural steel, regardless of the size of a project. In large buildings, the low weight and immense strength of steel makes it ideal for use. Whilst high-rise buildings are generally made up of reinforced steel and concrete, skyscrapers nearly always strictly comprise a steel frame.
As an example, the Empire State Building is primarily composed of 60,000 tonnes of steel. Apart from its durability and weather resistance, steel has the highest strength-to-weight ratio of any construction material, providing stability for even the largest buildings.
Whereas for residential buildings, light gauge steel is used to help maximise the structures' strength levels. During light gauge steel construction, steel is used instead of traditional wood 2x4s. Essentially, any residential building, whether it is an individual home or a multi-unit property, can be enhanced using steel.
The long list of benefits in using structural steel for any construction project includes its cost-efficiency when compared to other framing materials. Structural steel brings greater value to a project in terms of initial costing, as well as reducing costs in related areas, such as foundations, general construction, and facade systems.
Structural steel is fabricated off-site while preliminary site preparation and foundation work are underway. At the actual site, the buildings are lighter and often foundations are smaller as a result.
Off-site, a computer modelling process takes place on computer numerically controlled (CNC) equipment prior to fabrication, which means that the components are produced accurately in the right consistency the first time around – with minimal scope for rework.
The components are then brought on-site and rapidly erected, accelerating the overall project schedule. This is a major advantage, because the structural framing system is always on the critical path of any project. An accelerated project schedule means earlier construction, which also translates into faster completion and return on investment.
Structural steel is produced to precise tolerances and consistent strength levels – a test certificate is available for all steel used and this can be traced through to the finished product.
This can greatly simplify the design process when combined with an established and well-documented design approach.
Increased usable floor space is another major advantage. Structural steel is both light and strong, allowing for longer spans and open column-free spaces. In larger buildings, where a column is necessary, slender columns can help maximise the useable floor space.
The typical steel column occupies 75% less floor space than its equivalent concrete column.
Steel buildings inherently lend themselves to structural addition and modification easily and limitless design possibilities and future adaptability are a core selling point.
An existing steel frame can be easily modified to address changing building requirements and uses. In fact, it's the highly customisable nature of steel that makes it so much better than other construction materials.
Steel can easily be fabricated into multiple shapes and sizes to suit the architect's requirements. This encourages a far greater freedom of expression and creativity of design than any similar materials can help achieve.
Additionally, steel structures can be dismantled and rebuilt elsewhere. It is notable that most constructions for the FA World Cup are built using steel and designed to allow for their easy dismantling and re-installment elsewhere once the event has finished.
The final argument for the use of steel in construction is its sustainability, recyclability and waste reduction.
Apart from the obvious reduced noise and dust levels and construction times that ease disruption to current occupants and neighbourhoods, waste removal from a steel-based construction site is significantly less than from one that leverages concrete.
The strength and durability of steel, coupled with its ability to be recycled time and again, without ever losing quality, make it truly compatible with long-term sustainable development.
Today's modern steel mills produce steel containing on average 90% recycled material.
At the end of a building's life cycle, 100% of the steel frame can be recycled – in developed countries, the current recovery rate for structural steel is up to 98%. With low environmental impacts on a per-square-foot-of-construction basis, steel is currently the foremost choice for environmentally conscious, sustainable projects.
Structural steel isn't just recycled or upcycled, it is 'multi-cycled' and the energy used in its production has been significantly reduced by 9% in the past 10 years and over 30% in the past three decades.
As 70% of the energy required to produce structural steel comes from electricity, steel's carbon footprint is set to decrease. Modern steel mills are working actively to preserve our natural resources for future generations.
It is clear that a compelling advantage exists for the use of structural steel in any building or construction project – irrespective of scope and scale.
In the UAE, companies such as Emirates Steel are encouraging a new culture of design and construction through technical seminars and workshops for engineers and design houses.
In addition, leading educational institutions such as Khalifa University and Abu Dhabi University, are promoting a greater use of structural steel amongst their future designers and architects.