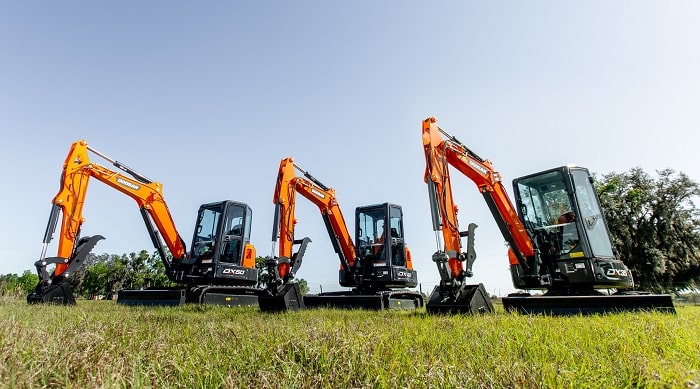 Doosan Infracore North America has added three new models in the 3.5-, 4- and 5-ton mini excavator classes: the Doosan DX35-5, DX42-5 and DX50-5, complementing the existing DX63-3 and DX85R-3 models.
"Doosan customers expect high-performing, productive and reliable machines when they see the Doosan orange," said Aaron Kleingartner, marketing manager for Doosan Infracore North America. "Now our customers who need a 3.5-, 4- or 5-ton mini excavator can purchase, lease or rent a machine from their local Doosan construction equipment dealer."
The expanded mini excavator line allows Doosan dealers to provide a wider range of products to their customers. "We hope with the additional models, our Doosan dealers will have the ability to grow their businesses and be even more successful in their local markets," Kleingartner says. "Also, it's important to note that these three models will be manufactured in the United States for fast delivery to our U.S. and Canadian dealers and customers.
Comfort features
These mini excavators will each be available with an enclosed cab, including heat and air conditioning, or an open canopy configuration. Doosan says that both configurations offer
Attachment offering
All three new Doosan mini excavators can be equipped with a quick coupler, bucket and thumb attachment package. Quick couplers allow mini excavator operators to easily change attachments to match the trenching task to the desired bucket width, minimizing over-digging. A thumb is a popular attachment to use with a bucket to effectively grab, lift and place items, such as debris in site preparation or hardscape materials for a landscaping project.
Operators have access to 17 to 20 gallons per minute of auxiliary hydraulic flow, depending on the model, to provide power to other attachments, such as augers, breakers and plate compactors.
DX35-5
The new Tier 4-compliant DX35-5 is now the smallest Doosan mini excavator available. This 3-ton-class excavator is designed with zero tail swing, which makes it an ideal machine for operating on congested jobsites and working next to other objects. A dual-flange track roller system gives the machine greater over-the-side digging capacity, exceptional slewing and a smooth, comfortable ride. A roomy cab adds to operator comfort and tall, wide windows provide the operator with excellent visibility for enhanced productivity and safety.
DX42-5
The conventional tail swing, Tier 4-compliant DX42-5 has strong bucket breakout force, dig depth and reach in a highly maneuverable excavator in the 4- to 5-ton class. Its relatively narrow width for a machine in its class provides operators greater ability to navigate through doorways, gates and other obstacles.
DX50-5
The 4- to 5-ton size class, Tier 4–compliant DX50-5 enables customers to operate in tight spaces with superior digging performance. It is a minimal tail swing excavator with less than one inch of tail overhang.
excellent all-around visibility, especially to the attachment.
A standard suspension seat provides all-day comfort for operators, while a strategically positioned deluxe instrument panel provides valuable machine information for operators. A standard keyless start system helps to reduce unauthorized machine use and theft.
Customers can choose between a standard arm or a long-arm option. The long-arm option gives operators more dig depth and reach and reduces the amount of machine repositioning for enhanced productivity. A blade comes standard with all three new models, and an angle blade is available as a factory option. An angle blade makes it easier for mini excavator operators to perform backfill tasks more efficiently, as well as create slopes and swales.