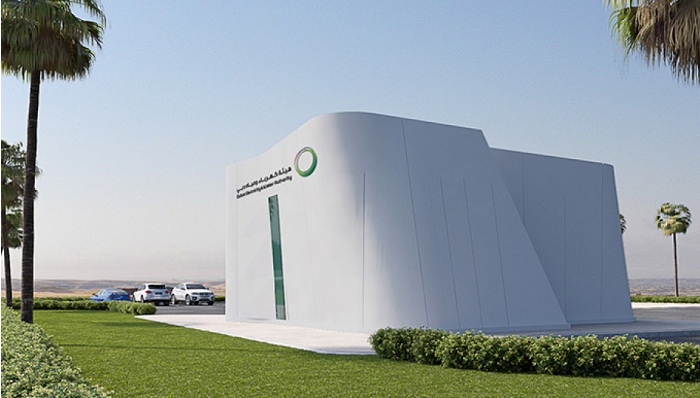 Dubai Electricity and Water Authority, DEWA, through its Research and Development Centre, has developed advanced infrastructure and specialised software in 3D printing and additive manufacturing.
DEWA is the first organisation in the Gulf Cooperation Council to deploy Markforged Metalx 3D printing based on wire/filament. This technology is highly accurate; reduces time and cost, improves efficiency and productivity, and enhances innovation.
DEWA uses 3D printers to produce prototypes and spare parts for generation, transmission, and distribution divisions, and to support the digitisation of its inventory. The R&D Centre at the Mohammed bin Rashid Al Maktoum Solar Park supports rapid prototyping through its 3D printer advanced features. It also provides technical solutions, training, knowledge sharing, mechanical testing, techno-economic analysis, and research and development in additive manufacturing.
The Centre includes the Robotics and Drone laboratory, which is the first building in the UAE to be fully printed onsite, and the first such 3D-printed lab in the world. The lab houses rovers and drones that are designed and built in-house.
"The 3D printing programme at DEWA has been selected as one of the Dubai 10X initiative projects. The initiative was launched by His Highness Sheikh Mohammed bin Rashid Al Maktoum, Vice President, Prime Minister and Ruler of Dubai, which mandates the Government of Dubai to be a global leader that is 10 years ahead of all other cities. The programme also supports the Dubai 3D Printing Strategy, which is a unique global initiative to use technology for the service of humanity and promote the status of the UAE and Dubai as a global hub for 3D printing technology, by 2030," said Saeed Mohammed Al Tayer, MD & CEO of DEWA.
"Our use of the latest Fourth Industrial Revolution technologies and world-class standards align with our continuous efforts to improve efficiency in the production, transmission and distribution of energy and water, develop future services and projects that enhance DEWA's position as one of the best utilities in the world, and enhance Dubai's leading position globally.
"The number of Emirati researchers at the Centre has reached 70 percent, which includes 40 male and female researchers, 20 of whom are PhD and master's degree holders."
Research activities in 3D printing have resulted in publishing one conference paper entitled, "Materials for 3D printing in construction" at the 2nd Annual Conference on 3D Printing & Additive Manufacturing. Several research papers are underway which support solar photovoltaic systems, solar power generation, smart grids integration, power efficiency and water.