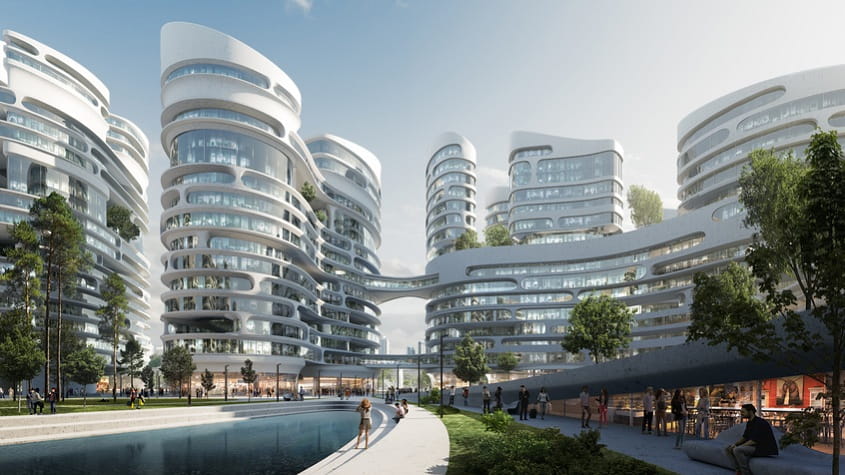 Designs have been revealed for the 4.6 sq km Chengdu Future Science and Technology City in central China by Dutch designer Office for Metropolitan Architecture (OMA) and German practice Gerkan, Marg & Partners (GMP).
The project will house an International Education Park, which will include universities, dormitories, public spaces, laboratories and offices. The development has six clusters, dedicated to student residences, universities, laboratories, markets, the government and the public.
A valley at the centre of the campus will lead to an International Education Park, an Aviation College and Futian Station, which will be topped with an umbrella-like roof, providing a terrace for leisure space, a hotel, retail outlets and offices.
The clusters will be car-free and are connected to the train station and the surrounding city through a smart mobility network that uses automated vehicles. There will also be a rotating hexagonal viewing platform, titled "The Eye of the Future", which offers views of the landscape.
Chris van Duijn, a partner in OMA, said: "With this project, we hope to provide an alternative to the typical masterplan, which is based on the traditional car-oriented road network.
"We intend to create a design rooted in the geography of the site. We hope that connection between architecture and landscape will result in a dynamic environment for education that will inspire innovative ideas."
Stephan Schütz, a partner in GMP, said: "This example of a new urban precinct for science, research, and housing in Chengdu raises the question about the future of cities in general. From our point of view, the answer should always be in reference to the specific location; in our design we have moved the landscape to the centre of the development to create a unifying feature."