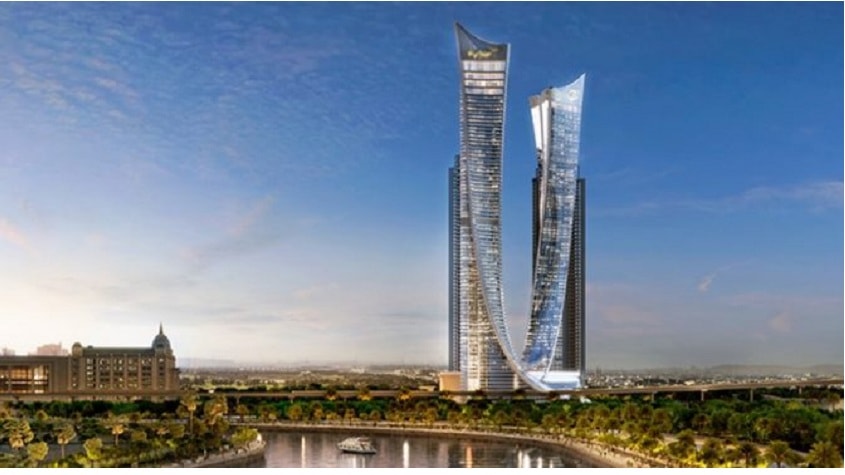 The contract covers main works construction for the tower, which comprises serviced apartments within the AYKON City development.
The tower includes two basement, ground floor and 10 podium levels, apart from a dedicated lifestyle and entertainment level, 53 residential floors and a rooftop.
Enabling work for the tower has already been completed and according to estimates, the main construction will use more than 11,000 tonnes of steel and 94,682 metric cubes of concrete.
According to the agreement between DAMAC and CSCEC, the main works are expected to commence on 1 March 2018.
AYKON City features a unique concept – that of an entire city-like infrastructure within Dubai. The plan consists of residences, serviced apartments, a hotel and office space.
AYKON City will include AYKON Plaza, an entertainment and lifestyle hub for the community that includes swimming pools, spa, beach club, cafes, restaurants, yoga and tai-chi areas, and a residents-only private recreation space called The Club.
Launched in February 2016, the four million ft2 development project is located on the eastern and western sides of Sheikh Zayed road at the Safa Park intersection near Dubai Canal.
DAMAC Properties commercial senior vice-president Mohammed Tahaineh said: "This is a major contract towards the realisation of AYKON City, one of DAMAC Properties' largest master developments in the heart of Dubai.
"CSCEC is one of the biggest contactors in the world and after careful consideration of various aspects, we agreed to the proposed partnership."The towers at AYKON City will be yet another iconic addition to this great city's dynamic skyline, and we are accelerating its development by choosing the right partner for the job."