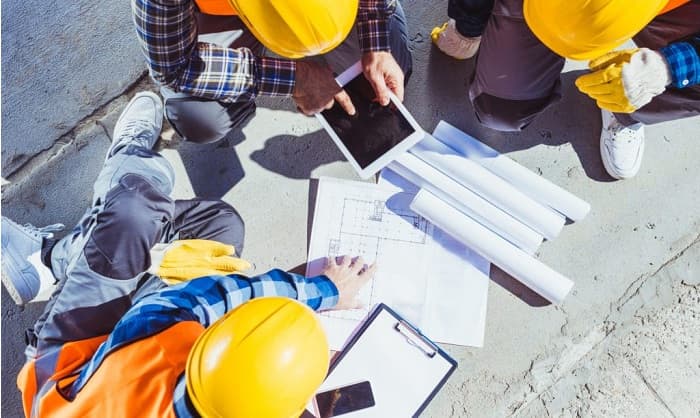 The coronavirus pandemic has taken a bite out of the construction industry, hampering and, in some cases, halting projects, but Quebec-based construction company EBC is proving a Cloud-based digital platform can help minimize the impact on day-to-day operations.
"We've been ahead of the pack and COVID-19 has had less impact on our business due to our early adoption of Cloud technologies such as BIM 360 and its numerous versatile tools and modules," Philippe De Guise, manager with BIM Corporate Services at EBC, told a webinar on how to improve construction workflows through digitized platforms hosted by Buildings Canada.
As an example, De Guise said health check stations on one of its construction sites were saved in BIM 360, helping keep track of everyone onsite.
"Down the line if we are audited, we have a clear track of whoever was on the jobsite and when they were there."
Prior to the pandemic, EBC set up a virtual design environment, allowing management and employees to use Cloud-based technology to improve communication and production.
When COVID-19 struck and employees were required to work from home, "all they needed was a simple laptop. Through a VPN (virtual private network) connection they connected to our virtual environment, allowing them to use the Autodesk platform as if they were working from the office."
EBC's digitized platform goes further, giving real-time access to data tracking across the project lifecycle from preconstruction, to operations and project delivery.
De Guise credits the general contractor's partnership with Autodesk Construction Cloud for setting EBC on a transformative path.
"With a platform that simplifies information sharing, owners can easily access project data for the long-term management of an asset," De Guise told the webinar audience.
He said the pandemic has helped speed up EBC's program to shift many aspects of its business and projects to one digital workflow platform.
While Cloud-based digitized platforms are still relatively new in construction, the technology has taken off in other industries.
The construction industry is in a catch-up mode, De Guise said, noting that EBC's experience of partnering with technology companies such as Autodesk is proof that the general contractors have much to gain by taking the digital step.
"It has allowed EBC to stay among the top general contractors in Canada," he said.
EBC's first project to fully implement BIM 360 was at the University of Montreal where the contactor had its first trial use of QR Codes fixed in various rooms and areas. Anyone working in or delivering to a room was required to scan a barcode and provide information on their purpose. That information was logged in BIM 360.
De Guise said among other things, QR Codes improve safety by keeping track of workers, equipment and materials.
"When project partners can see how much things cost, what is happening on the jobsite and where everything is going, that creates a huge level of trust," he added.
Scott Carlson, customer success manager with Autodesk, told the webinar audience that design and construction asset tracking has traditionally been handled in spreadsheets, based on information provided by vendors and partners.
It is an approach "that can create many gaps between what is expected and what happens," Carlson said.
Some construction companies are hesitant to take the technological leap because of the confusion of where to start.
They need to secure partnerships with companies to act as "a guide or mentor," advised De Guise, noting the process includes providing security of all digitized documents.
"Anyone invited to the platform can see everything unless you have proper security set up…It is not something you can undertake on your own."
As for the cost, Carlson said the operational savings outweigh the upfront cost of digital platforms.
De Guise adds the digital platform can pay for itself simply through litigation cases because everything is centralized, providing "clear audit trails" on the platform and on the project.