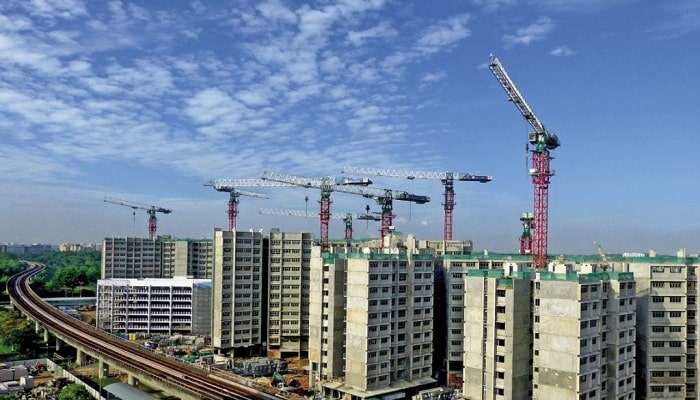 Even if international investors are anticipating a significant bailout, China's central government is not expected to spend billions to help the faltering real estate sector, according to analysts.
The country's real estate issues have only become worse a year after Chinese developer Evergrande's debt issues started to spook investors. Due to building delays, some homebuyers declined to make mortgage payments, and property sales fell. Even once-viable developers are having trouble paying off their debt.
According to Tommy Wu, senior China economist at Commerzbank, he doubts there will be direct bailouts of real estate developers by the state, even though they may continue to solicit banks and state-owned enterprises to help select distressed developers.
He anticipates Beijing will want to gradually address the real estate sector's issues and lessen the sector's influence on the economy. A quarter of China's GDP is made up of the property industry and allied industries.
The focus of new rounds of measures in the upcoming weeks and months, according to Wu, will most likely continue to be on promoting home completion and boosting housing sales. According to S&P Global Ratings, the property market requires between 700 billion and 800 billion yuan ($98.59 billion) to guarantee distressed developers can complete presold homes in September.
A similar-sized central government fund has not yet been disclosed.
This is true despite numerous stories citing sources that suggest funding. Some investment analysts anticipate the existence of such a fund, particularly one that is sizeable enough to inspire confidence.
Financial difficulties are already affecting many developers. As of mid-2021, Evergrande, Kaisa, and Shimao announced total liabilities of more than 2.6 trillion yuan, following which the three developers' financial difficulties grew worse. They represent a small portion of the sector.
According to Qin Gang, executive director of China's premier real estate research organisation, ICR, at that magnitude, even hundreds of billions of yuan in expenditures by the central government would have minimal impact. As per him, that ignores the fact that the government is currently more cash-strapped than it was three years ago, as seen by declining revenue from land sales and taxes and rising spending on COVID measures.
According to the Ministry of Finance, China's central government received roughly 9.15 trillion yuan ($1.26 trillion) in total public revenue in 2021. Without taking into account tax credits, that income for the first 8 months of the year fell by over 10% to 6.36 trillion yuan. According to Qin, public opinion is also crucial because people can become incensed if the government aids those indebted developers.
He continued, delivering finished apartments is a very complex issue that calls for local coordination to be overcome. Recently, the central government lowered mortgage interest rates and delegated property dispute resolution to local governments. This year, home purchase limitations were loosened in a number of locations.
Last month, the Ministry of Housing and Urban-Rural Development made it clear to reporters that central government initiatives, like special loans to encourage housing completion, were intended to help the cities that needed them. No dollar figure was given. Over the past two decades, China's real estate market has experienced explosive expansion, creating tycoons who aren't shy about showing off their wealth. Beijing has prioritised closing the national wealth divide in recent years.
The fast expansion of the real estate industry was largely spurred by developers' taking on borrowing. Families were forced to go into debt to purchase a home as house prices skyrocketed, raising concerns about a housing bubble.
In 2020, Beijing commenced a serious crackdown on the use of debt by developers. Evergrande was slower to comply than other businesses, and in August 2021, the real estate tycoon issued a default warning to investors.
Later that year, the business declared bankruptcy, and in the months that followed, a number of its competitors, from Kaisa to Shimao, did likewise. The top developer by sales, Country Garden, stated that the real estate market slid fast into severe depression this year.
A record-length decline
The Chinese real estate downturn has now entered its tenth quarter, a record-long period of more than two years, according to Barclays' examination of quarterly property investment data, the analysts said in a note on October 13.
According to the report, previous real estate downturns in China typically lasted four to five quarters.
The researchers predicted that a protracted fall would reduce Chinese people's desire to purchase homes and take advantage of rising property prices. That suggests declining developer sales. The Barclays analysts stated, alluding to policies like state-backed guaranteed bond issuance, that we do not expect bailouts of the struggling developers, but that the market-oriented approach of assisting high-quality developers could continue.
Government position
Evergrande's Shenzhen division said in late September that it would work with a state-owned firm to ensure home delivery, serving as an illustration of how state organisations are anticipated to become more involved.
Otherwise, the federal government has continued to concentrate on non-real estate-related concerns.
Beijing's resurrection of a central bank financing mechanism this fall was first anticipated to aid developers in completing home development, but as Caixin reported this month, citing sources familiar with the situation, it turned out to be for infrastructure.
The biggest obstacle to regaining trust is still the sluggish economy and the pressures on consumer and corporate activity brought on by the zero-COVID policy. However, stronger assistance will help the real estate market.