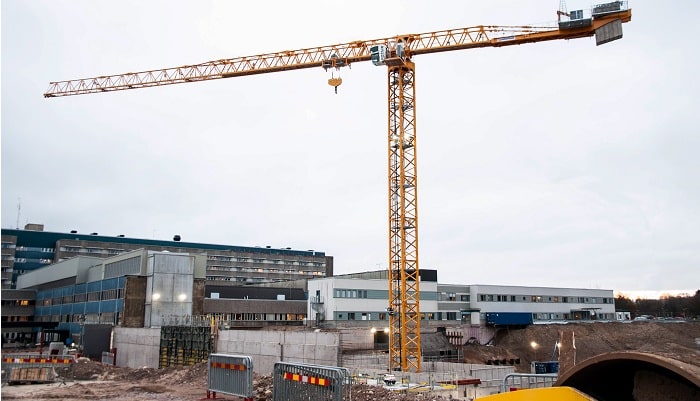 ByggDialog is using the new Potain MDT 809 topless crane to extend Skaraborgs hospital in Skövde, near Gothenburg, Sweden.
Chosen for its lift capacity of up to 40 t and the ability to accommodate up to 80 m of jib, the Potain MDT 809 is the largest Potain topless crane to date.
ByggDialog is renting the crane from Lambertsson Kran, a longstanding Potain Cranes distributor and rental company. Lambertsson Kran has a fleet of around 200 Potain cranes in Sweden and 150 in Norway.
Following its launch at bauma 2019, the new Potain MDT 809 topless crane has now arrived at job sites across Europe. One such project is the extension of Skaraborgs hospital in Skövde, around 170 km northeast of Gothenburg in Sweden.
Contractor ByggDialog is using the MDT 809 to erect the concrete structure with a 55 m jib and 37.4 m height under hook on fixing angles.
"This is a challenging project that involves lifting heavy elements over long distances," said Jan Heed, managing director of Lambertsson Kran, the local distributor supplying the crane. "With its large capacity, we knew the MDT 809 was the crane for our customer."
Easy transportation and installation
In addition to its large capacity, the MDT 809 is simple to transport and install, thanks to the Potain topless concept. Different winch options give the crane a maximum available capacity of 25 t, 32 t or 40 t. The crane can be transported in either 10 or 11 containers, which is four to five fewer than usually required for a crane of this size.
The MDT 809 can also be assembled twice as fast as other 40 t cranes and requires less space. With the full complement of jib, the MDT 809 can be assembled at a working height of 50 m in less than three days. There are dedicated slinging points on the crane to aid on-site assembly and jib sections can be assembled either on the ground or in the air.
Outstanding service support
"It is reassuring for our customers to know that if there is ever an issue, we together with the team at Manitowoc are quick to help solve it and avoid any unnecessary delays to the project," Heed said.
ByggDialog has rented the MDT 809 from Lambertsson Kran. The 25 t crane was installed in October 2019 and will be moved to the next job on the site this summer, where it will operate until spring 2021.
Lambertsson has been a distributor of Potain cranes since 1980. In total the rental company has a field population of around 200 Potain cranes working in Sweden and an additional 150 in Norway. The fleet includes both Potain self-erecting cranes and top slewing cranes. For this long- term partner company, the most important factor for business success remains the aftersales support provided by Manitowoc.
About The Manitowoc Company, Inc.
The Manitowoc Company, Inc. was founded in 1902 and has over a 117-year tradition of providing high-quality, customer-focused products and support services to its markets and its 2019 net sales were approximately $1.83 billion. Manitowoc is one of the world's leading providers of engineered lifting solutions. Manitowoc, through its wholly-owned subsidiaries, designs, manufactures, markets, and supports comprehensive product lines of mobile telescopic cranes, tower cranes, lattice-boom crawler cranes, and boom trucks under the Grove, Manitowoc, National Crane, Potain, Shuttlelift and Manitowoc Crane Care brand names.
To learn more about the MDT 809 click here.