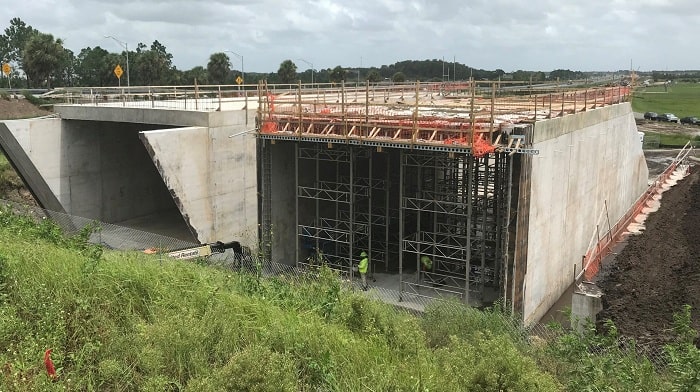 When Brightline Trains embarks on jacking a precast concrete box under an Orlando roadway this month it will mark a historical accomplishment for the US construction industry. Brightline will be one of the first companies in the nation and the first outside the northeast to use this innovative box-jacking method that can build a tunnel for a train in the fraction of the time it would take using conventional methods. The box-jack operation at Goldenrod Rd., just east of Orlando International Airport, will take just two weeks to complete compared to traditional underpass construction which would have shut down local roadways for nearly a year.
The box-jacking system was developed by Italy-based Petrucco, and will be carried out by them in collaboration with Brightline general contractor Granite Construction. The system uses hydraulic jacks to push two precast concrete boxes, measuring 146-feet and 126-feet long respectively with 42-ft side walls, while an excavator digs out a path from inside the box and from the opposite side.
The Petrucco box-jacking method is commonly used in Europe and around the globe for rail construction but, until now, has seen very limited application in North America. Brightline is on a path to change that. This will be the first of two box-jacking operations that will occur on the Brightline corridor. Following the Goldenrod Rd. work, Brightline is working on a similar box jacking operation, which would build a rail underpass under SR 528 at US 1 in Brevard County. That work is expected to take place in early 2021.
"This box-jacking method began as an idea that Granite Construction brought to Brightline as a way use construction technology to build two underpasses along the busy corridor between Orlando and Cocoa that would minimize the impact to traffic," said Michael Cegelis, Executive Vice President, Rail Infrastructure, Brightline. "We are constantly working with our contractors to implement the most innovative and advanced approach to construction, and Granite responded with this innovative technology that is proven in Europe but not widely utilized in the U.S. It will reduce the period of traffic detour from many months to weeks."
Moving the concrete boxes will require specialized hydraulic jacks that can manage the weight and size. Each precast box weighs more than 3000 tons, the equivalent of 15 Boeing 757's, stands three stories high and can hold three semi-trucks end-to-end. The installation will progress at approximately three feet per hour and will take 40 workers working 12-hour shifts to keep the operation running 24/7.
This box jacking method was first used in the U.S. earlier this year on the Long Island Railroad expansion project in New York City. In this project, similar precast concrete boxes were installed under roadways eliminating the need for at-grade railroad crossings.
The Goldenrod Rd. project, scheduled to run continuously from Wednesday, September 9 through Tuesday, September 22, will shut down northbound and southbound Goldenrod Rd., from south of the SR 528 bridge to Cargo Rd. The Goldenrod exit from SR 528 will remain open for traffic heading north on Goldenrod Rd. Southbound traffic will be detoured via Semoran Blvd./Orlando International Airport and Hazeltine National Dr.
The box-jacking work is part of Brightline's Orlando extension project which covers 170-miles from West Palm Beach to Orlando International Airport and will connect Miami to Orlando via high-speed rail. Construction of the $2.7B project is expected to be completed in late 2022.