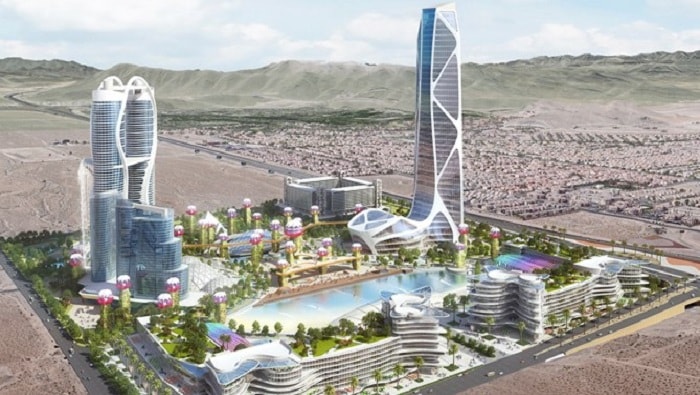 Real estate investment trust Bleutech Park Properties is set to break ground on $7.5bn Bleutech Park, a first-of-its-kind energy-efficient mini-city, with the purchase of 210 acres at the south end of the Las Vegas Strip in Nevada, US. Located at Las Vegas Blvd. South and Cactus, the mixed-use project will be equipped with self-healing concrete, energy-generating and breathable materials.
American West Homes founder Larry Canarelli and Seven Valleys Realty and Construction owner Khusrow K Roohani have sold the land for the proposed net-zero project. Canarelli said: "I will always remember I was part of this land – home to this very innovative and special Bleutech Park project." Roohani noted: "After many years working together, I'm honored to see Bleutech Park finally set flag in 210 acres of the best location – South Las Vegas Blvd."
The Bleutech Park scheme will comprise 100% off-the-grid ultra-luxury residential, sustainable living residential, a futuristic 3,000-key hotel, retail space, tech-smart office facilities, a dream surfing destination, as well as a full-entertainment 1,200ft tower. In August 2019, Bleutech Park Properties said that it plans to break ground on the mixed-use project in December 2019 and complete the construction in six years.
Expected to redefine the mixed-use environment, the Bleutech Park will also feature automated multi-functional designs, renewable energies, autonomous vehicles, artificial intelligence (AI), augmented reality, Internet of Things (IoT), robotics, and supertrees. Bleutech's partners for the project include construction contractor Martin-Harris Construction and technology firm Cisco. The park will comprise net-zero buildings that will be powered by renewable resources, including solar, wind, water and kinetic energy.
The exteriors of the buildings are planned to be equipped with photovoltaic panels, making each building to be 100% grid-independent. Bleutech Park Properties CTIO Bertrand Dano earlier said: "Bleutech believes in the rise of digitization and robotics in construction as this will increase productivity and efficiency."