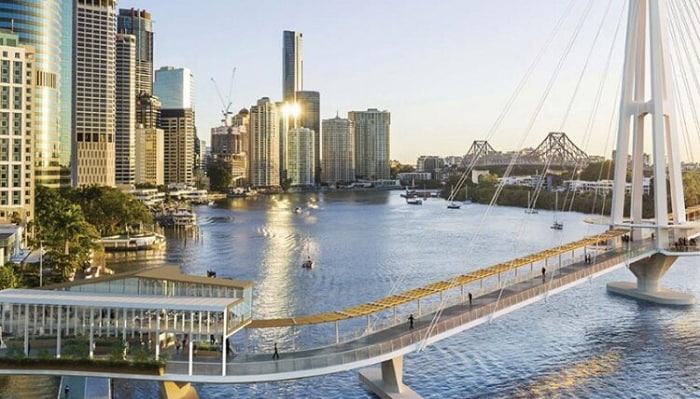 A consortium led by BESIX Watpacy has been awarded a contract by Brisbane City Council for the construction of the Kangaroo Point Green Bridge (KPGB) in Brisbane, Australia.
The consortium, named Connect Brisbane, also includes Blight Rayner, Aspect Studios, Rizzani de Eccher, WSP, Right Angle Studios, Dissing and Weitling, RWDI, Rowland and F-POV.
Now, the team will commence five months of detailed design work as well as the stakeholder consultation before the construction activity gets under way.
The 460m-long bridge will connect Kangaroo Point to the CBD and will provide connection between city centre and Kangaroo Point peninsulas.
The single-mast cable stayed structure will include cycle and pedestrian paths and variety of places for people to pause and take in the river and city views.
The Kangaroo Point Green Bridge will provide several opportunities for new event spaces, dining and drinking on the bridge and help to create new riverside space for Brisbane residents.
It will also include bar, restaurant and event space as well as small food and beverage outlets at viewing platforms in the centre of the bridge.
Construction work on the new bridge is planned to begin at the end of this year with detailed planning already underway at the site to minimise disruption.
BESIX Watpac CEO Jean-Pol Bouharmont said: "The Kangaroo Point Green Bridge is a symbol of the strength and capability of BESIX Watpac and we are all incredibly proud of what we are about to deliver for the Brisbane City Council and the people of Brisbane."