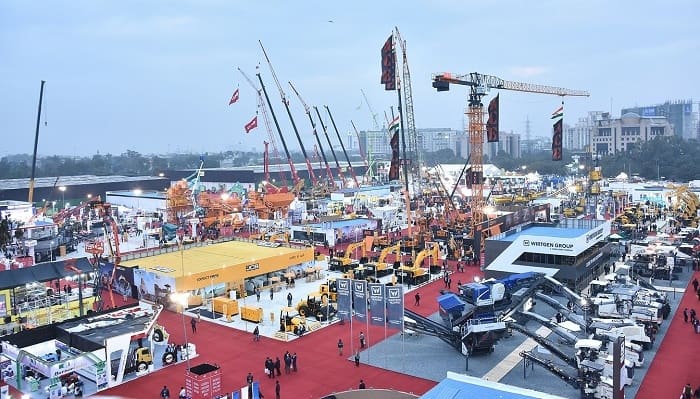 Originally scheduled from 3–6 November 2020, bauma CONEXPO INDIA, the International Trade Fair for Construction Machinery, Building Material Machines, Mining Machines and Construction Vehicles, has been rescheduled from February 23 to 26, 2021 in Gurugram/New Delhi.
Considering the escalating pandemic as well as domestic and international travel restrictions imposed by the Indian government, rescheduling the trade fair was said by organisers to follow evaluation of the market situation in the wake of the effect of the coronavirus pandemic.
Bhupinder Singh, CEO bC Expo India Pvt. Ltd, said: "We have arrived at the decision to postpone bauma CONEXPO INDIA after thorough market assessment and consultation with our key stakeholders. The postponement was in the best interest of the exhibitors and visitors."
The exhibition rescheduling decision was supported by Arvind K. Garg, chairman, bauma CONEXPO INDIA – Task Force and executive vice president and head, Construction and Mining Machinery Business at Larsen & Toubro Ltd. He said: "We are in an unprecedented situation that has affected our industry significantly. This decision to reschedule bauma CONEXPO INDIA, is in accordance with the feedback we received from both our important stakeholders—exhibitors and customers."
Sandeep Singh, president of ICEMA (Indian Construction Equipment Manufacturers' Association) and managing director, Tata Hitachi Construction Machinery Company Private Limited also supports bC Expo India Pvt. Ltd.'s decision to reschedule.
"The pandemic has had a deep impact globally and in India, both in human and economic costs. The postponement of bauma CONEXPO INDIA will give the Indian industry time and resources to enable exhibitors to participate in the 2021 edition."
Mu. Moahan, president of the Builders Association of India (BAI) commented on the postponement, said: "Rescheduling bauma CONEXPO INDIA 2020 will enable exhibitors and visitors from across the country to participate in the trade fair without any complications. The postponement is although more welcome, as BAI National Members Meet can be planned alongside with bauma CONEXPO INDIA 2021 with maximum participation from pan India."