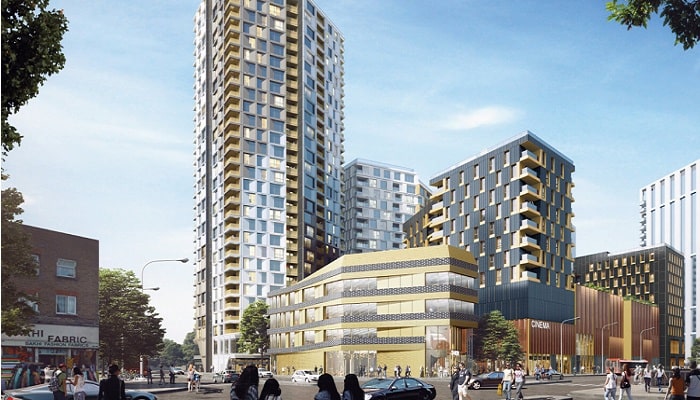 Balfour Beatty announces that it has been awarded a £197 million contract to construct Phase Two of the Lewisham Gateway regeneration scheme on behalf of Lewisham Gateway Developments, a subsidiary of Muse Developments. Once complete, the scheme will be owned and operated by Get Living.
The contract will see Balfour Beatty construct four mixed-use buildings, including 530 homes for rent, 119 co-living units, a cinema and gym, office facilities, as well as retail and restaurant areas. The development will also create dedicated 'green spaces' for the community to enjoy.
In addition to delivering the main construction works, Balfour Beatty Kilpatrick will deliver the infrastructure's mechanical and electrical (M&E) works, while Balfour Beatty Ground Engineering will carry out the piling works. Located adjacent to Lewisham's DLR station, Lewisham Gateway will represent one of the largest transformational regeneration schemes in South East London, with the overall scheme creating up to 900 new homes and urban spaces for the local community.
As part of Balfour Beatty's commitment to 25 by 2025, an initiative to reduce work undertaken onsite by 25% by 2025, the team will utilise modular construction techniques throughout including the installation of prefabricated bathroom pods, which will in turn increase efficiency, quality and onsite safety.
Graham Hill, Managing Director of Balfour Beatty's UK Construction Services business in London, said: "Our selection by Muse Developments for the Lewisham Gateway Phase Two development is testament to Balfour Beatty's ability to deliver key regeneration projects in London, having most recently been appointed to deliver Phase One of the East Wick and Sweetwater development last year.
"Our ability to offer a fully integrated solution for our customers, from ground engineering expertise and M&E capabilities through to main works construction will significantly contribute to the regeneration of Lewisham Gateway, leaving a lasting-legacy for years to come.
"All works will be delivered strictly adhering to Balfour Beatty's COVID-19 Site Operating Procedures, which are fully aligned to the latest UK Government guidelines to ensure the continued health, safety and wellbeing of all those who work for and with the company."
Mike Auger, Regional Director at Muse Developments, said: "Bringing Balfour Beatty on board to build Lewisham Gateway is a proud milestone for everyone involved with the scheme, as it highlights confidence in our long-term vision – despite the unprecedented situation we all find ourselves in – to deliver a truly transformational scheme that will drive economic and social prosperity in the heart of Lewisham when it's needed most.
"At Muse, we're committed to bringing the best of the public and private sector together, to help restart the economy, which will come from our towns and cities, by bringing forward high-quality design, but importantly a purpose at its heart to meet the diverse needs of the community. We look forward to working closely with Get Living and Balfour Beatty as the scheme progresses."
Following a pre-construction services agreement which commenced in mid-2019, full works are due to begin imminently with completion expected in Autumn 2023. At construction peak, the scheme will employ 500 people, with a minimum of 5% of its workforce formed of apprentices and graduates.