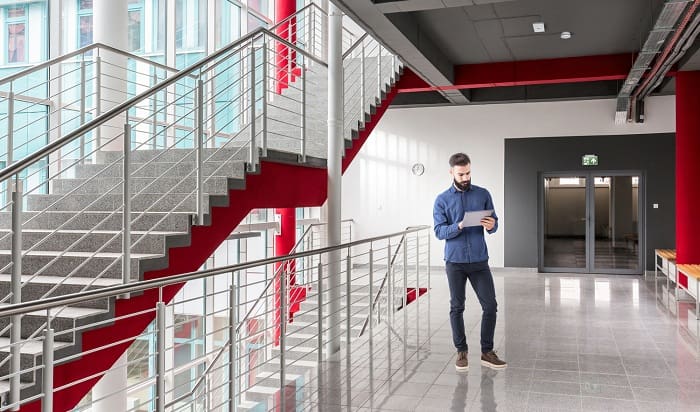 Naveo®Pro system allows customers to set up, maintain and fully control their entire emergency lighting installation with a new mobile app. This provides a real time overview of all systems, saving time, enabling better maintenance planning and enhancing building safety.
ABB lights up maintenance planning and enhances building safety with the launch of Naveo®Pro 1
Naveo®Pro, the latest monitoring system from ABB, offers a transparent and proactive way to install, monitor and maintain emergency lighting systems from a mobile device.
Part of the ABB AbilityTM platform of connected devices, this solution offers uncompromised cybersecurity and allows secure integration of data that enables key benefits for all users of the system.
With the Naveo®Pro app, self-contained emergency luminaires can be easily installed and programmed into a building in a fast and intuitive way. Through the ABB AbilityTM platform, the system provides a digital overview via the cloud, giving instant information to assist resource planning and enhance building safety, which can be processed directly from a smart device.
"Naveo®Pro allows users to manage their emergency lighting system, while keeping a record of all activity safely in the cloud", says ABB's Thorsten Mueller, Global Product Group Manager Building and Home Automation Solutions. "This gives customers complete peace of mind on their safety installation and creates the possibility for connected emergency lighting solutions in the future. By harnessing the power of the cloud, it unlocks and provides access to data and account management tools. This can reduce operating costs dramatically and will be one of the key elements for building owners and facility managers to reduce the total cost of ownership of safety systems in the future."
With emergency luminaire data stored in the cloud, the mobile app provides a 24/7 overview of all smart monitored buildings via Google maps. Building maps can be uploaded and overlaid onto Google maps, showing its current status and providing a clear and precise location of the emergency lighting luminaire.
Testing, inspection and maintenance planning can be scheduled to ensure all emergency luminaires are working properly. In addition, functional and duration tests can easily be programmed via the user-friendly app. Faults are automatically detected and reported directly to a mobile device providing anytime, anyplace, anywhere notification. In addition, multiple users can access the data held on the emergency lighting system, which can be emailed, shared and stored to provide a permanent record of the health of an emergency lighting system.
To further enhance building safety, the system sends maintenance alerts in the Naveo®Pro app, so components can be replaced before a malfunction occurs. All functionalities are in place to optimize the safety of visitors or building users. As a result, there is no unnecessary equipment handling, complicated paperwork, double data entry, searching for the right components or unnecessarily travel for replacement parts. Just one easily accessible database accessed from multiple devices, with clear information, making the task of ongoing maintenance much simpler.