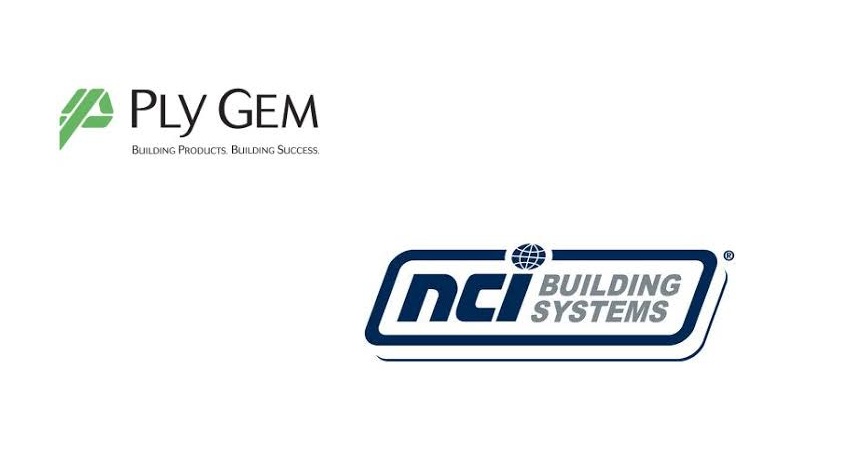 NCI Building Systems, Inc. , a leading manufacturer of exterior building products for commercial construction and Ply Gem Parent, LLC, a leading manufacturer of exterior building products for residential construction announced that they have signed a definitive agreement under which the two companies will combine in a stock-for-stock merger.
The combined company will have a pro forma enterprise value of $5.5 billion and an implied equity value of $2.6 billion, based on NCI's closing share price on July 17, 2018.
NCI Chairman James S. Metcalf, who will lead the integration of the two companies and serve as Chairman and CEO of the Company, said: "This transformational combination creates the leading exterior building products company with multiple avenues for further growth. Both companies are experiencing sustained momentum driven by meaningful cost savings, and the greater scale and diversification of the combined company support organic growth, margin expansion and longer-term M&A opportunities. With a greater ability to attract and retain top talent in all fields, our combined company will continue to innovate in the exterior building products space – far beyond what either of us could do alone."
COMPELLING STRATEGIC RATIONALE FOR THE COMBINATION
The transaction will create a market-leading North American exterior building products platform providing new construction and repair & remodel solutions for commercial and residential applications. As a larger, vertically-integrated manufacturer with enhanced growth opportunities through adjacent products, the combined company will become a one-stop solution for exterior building envelope needs.
   
Expansive, advantaged customer platform: Improved ability to serve customers with a broader product portfolio across multiple end markets. Complete go-to-market coverage across direct, distribution and retail customers.
Superior growth and financial profile: Multiple avenues for growth spanning core market expansion, product innovation, cross-selling and multifaceted M&A opportunities. Increased diversification of end markets and raw materials reduces earnings volatility. Ongoing cost initiatives and identified near-term cost synergies totaling over $150 million annually.
Shared strengths and best-in-class capabilities: Combined strengths in advanced manufacturing, product innovation and cost efficiency coupled with shared acquisition integration and cross-selling capabilities. Strong cultural fit with a focus on continuous improvement.
Long-term, results-driven stewardship: Experienced leadership teams with a proven track record of integration and execution. Substantial investment from funds managed by Clayton, Dubilier & Rice ("CD&R").
The Company will operate under a name to be determined, and each entity will preserve its existing established brands. The Company will be headquartered in Cary, North Carolina, with a significant presence in Houston, Texas.
Ply Gem Chairman and CEO Gary E. Robinette, who will continue to serve in this role until close, added: "I am grateful and honored to have had the opportunity to lead Ply Gem over the past 12 years and I am proud of our team's accomplishments during the past decade of successes and challenges.  The joining of these two market-leading exterior building products companies creates a platform for growth, enhanced innovation and cost improvements, while serving all channels of the construction markets.  I am excited for the associates and customers of the combined company and the next evolution of this best-in-class provider of exterior building envelope solutions."
NCI CEO Donald Riley, who will continue to serve in this role until close, noted: "This scalable platform is well-positioned to create shareholder value through improved margins, additional cost savings and expanded market penetration. The opportunity for growth through cross-selling and adjacencies to each other's customers is a major advantage of this transaction. Furthermore, both of our companies are strong in new construction and Ply Gem also excels at repair and remodel, adding to our combined end market diversification and providing further room for growth."
FINANCIAL HIGHLIGHTS
Under the terms of the agreement, NCI will issue 58.7 million shares to Ply Gem shareholders. Upon the close of the transaction, NCI shareholders will own 53% of the Company's common equity, with Ply Gem shareholders owning 47%. The transaction is generally expected to be tax-free to the Ply Gem owners for U.S. federal income tax purposes.
On a combined basis for calendar year 2018, the Company is expected to generate revenue of approximately $4.5 billion and Pro Forma Adjusted EBITDA of $660 million – $680 million, including run-rate synergies and cost savings. The Company expects that, after three years following close, cost reduction initiatives and merger-related synergies will yield over $150 million in annual cost savings. Clearly scoped standalone cost reduction initiatives are already well underway at both NCI and Ply Gem. Combination-specific synergies include manufacturing efficiencies and procurement and general & administrative savings. The transaction is expected to be immediately accretive to adjusted cash earnings per share and free cash flow.
The Company will generate strong free cash flow and maintain a flexible balance sheet, with ample liquidity and cash flow to invest in growth and pay down debt. The Company's pro forma capital structure will include Ply Gem's existing $1,755 million senior secured term loan and Ply Gem's existing $645 million of senior unsecured notes, each of which will be assumed by the Company following completion of the transaction. The Company also expects to incur a $475 million incremental term loan in connection with the transaction, the proceeds of which will be used to retire NCI's existing term loan, repay any amounts outstanding under NCI's existing revolving facility and pay transaction fees and expenses. The Company will retain Ply Gem's existing $475 million in aggregate asset-based and cash flow revolving facilities, and plans to increase Ply Gem's existing asset-based revolving facility by $215 million to provide additional working capital capacity as well as replace NCI's existing asset-based revolving facility.
About NCI Building Systems, Inc.
NCI, headquartered in Houston, TX, is one of North America's largest integrated manufacturers of metal products for the commercial building industry, selling products such as metal wall and roof systems, insulated metal panels, roll-up doors, trim, accessories and engineered commercial buildings. NCI has approximately 5,300 employees across 38 manufacturing locations throughout North America. For more information, visit www.ncibuildingsystems.com
About Ply Gem Holdings, Inc.
Ply Gem, headquartered in Cary, NC, manufactures and sells a variety of products focused on the exterior envelope of single and multi-family homes. Ply Gem's key products include windows, doors, siding, roofing, metal accessories, stone and other adjacent products. Ply Gem employs approximately 11,600 people across 35 facilities in North America. CD&R acquired Ply Gem in April 2018 and concurrently merged it with Atrium Windows & Doors, a manufacturer of residential windows and doors. For more information, visit www.plygem.com
About Clayton, Dubilier & Rice
Founded in 1978, Clayton, Dubilier & Rice is a private investment firm. Since inception, CD&R has managed the investment of $26 billion in more than 80 companies with an aggregate transaction value of more than $100 billion. The Firm has offices in New York and London. For more information, visit www.cdr-inc.com