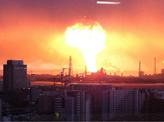 Costs for nuclear new build could rise in the wake of the findings of a report by the chief nuclear inspector assessing the implications of the nuclear crisis in Japan.However, sources close to the process said the report contained no "dealbreakers" that would curtail the development of a fleet of power stations.
Mike Weightman this week published the interim report, which identified 25 areas recommended for review to further improve safety measures in the industry. These included the layout of UK power plants, emergency response arrangements, dealing with prolonged loss of power supplies and the risks associated with flooding.
The report also calls for a plan to be published in June outlining how each of the 25 areas will be addressed.
One nuclear industry source said: "It asks whether there diverse ways of connecting the grid if power goes down. Are there alternative transport options?"
It is thought the recommendations are likely to be more difficult for existing nuclear power stations to meet than new build. The source said: "It's a challenge but it shouldn't delay the timetable."
Energy Secretary Chris Huhne said the interim report also provided a good case for the industry to proceed with the new build programme.