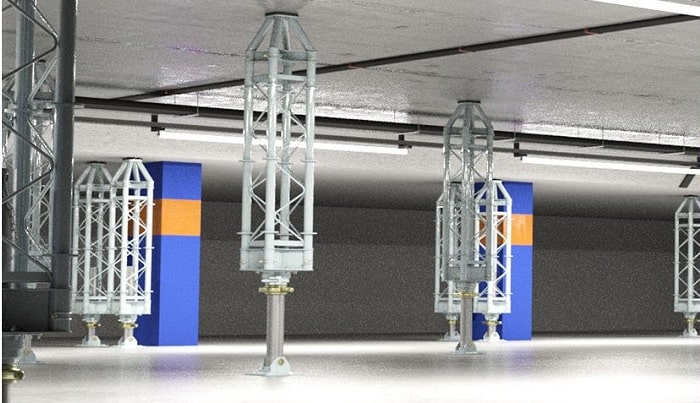 RMD Kwikform, a global leader in formwork, falsework and ground shoring solutions, has launched Tetrashor, a lightweight modular propping system that can deliver a loading capacity of up to 400 kN.
The system has been designed for the building refurbishment and civil engineering markets, finding applications in dead shoring, façade retention, propping and needling, supporting precast concrete bridge beams and structural steel work frames, and restraining tall single and double-sided formwork.
The system's 400 kN loading capacity means a minimum number of props are required, helping to reduce costs and assembly time for contractors. At the same time, it has been designed with lightweight components, so the product can be easily carried about by workers, without the need for a crane. With a weight of only 30 kg/m, Tetrashor delivers an excellent strength-to-weight ratio.
Tetrashor's versatility is a key feature. It can be used horizontally, vertically and inclined. The Tetrashor prop can also be used as a group of four to create a Tetrashor tower, providing a loading capacity of up to 1600 kN for heavy, concentrated loads. Tetrashor is compatible with RMD Kwikform's market leading range of false work systems too, including Megashor, Rapidshor and Superslim.
The system also features an innovative 'Kwik Strike' load release mechanism, so workers can release loads in a quick and controlled manner.
Testing has proven that activating KwikStrike requires only two or three hits from a hammer; removing loads can be a long and exhausting
process with other systems. Not only does this help to reduce labour, effort and time, but it minimises noise, safety risks and damage to equipment too.
A range of hydraulic jacking options are available with Tetrashor, enabling the controlled application, monitoring and release of loads should the application demand precision.
Ian Fryer, Divisional Product Innovation Director at RMD Kwikform, said: "When superior prop strength is a key requirement, the compromise is generally a heavier system that is more difficult to manoeuvre. Conversely, lightweight but less strong systems often require more materials to meet loading capacities, adding to erection times and costs.
"With Tetrashor, contractors do not have to compromise. Tetrashor provides a safe, cost-effective and efficient solution, helping to overcome common industry challenges by supporting heavy loads, while also improving productivity through its versatility and design. For instance, less bracing is required on longer props than alternative solutions, helping contractors to keep costs down.
"Available in five different prop variants to suit most applications, Tetrashor offers a strong and assured propping solution, while still meeting the contractor's need for a system that can be easily manoeuvred about on site."