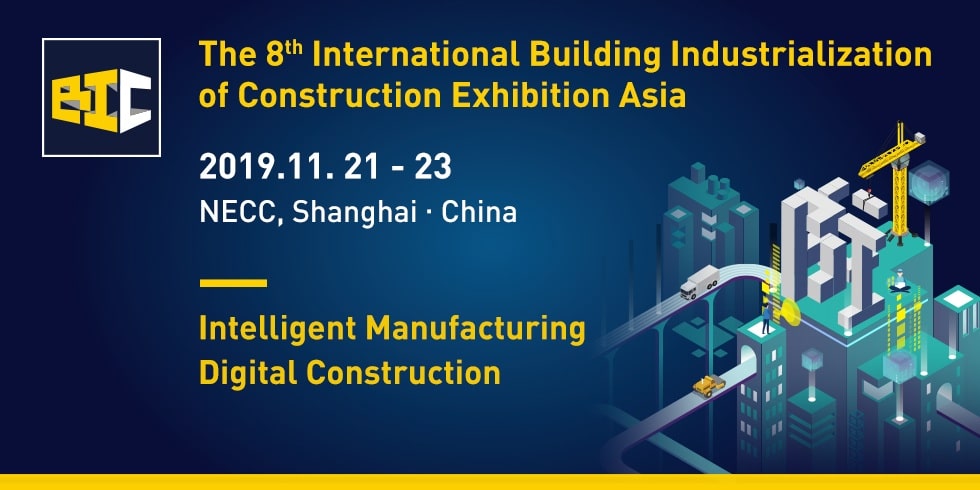 In 2018, nearly 1,000 precast factories with scale of over 30,000 cubic meters and more than 600 new precast factories was built in China. According to the prefabricated building action plan which is part of China's "13th Five-Year Plan", China's precast construction setting trends RMB 1.4389 trillion, proportion of prefabricated buildings in new building area up to 30% by 2025.
According to response from China market, creation and innovation are demanded timely in the industry. The professional people from building industry are willing to touch the new technology from global market.
Since 2013, The International Building Industrialization of Construction Exhibition Asia (hereinafter referred to as BIC) has been the first exhibition of the whole industry chain in prefabricated construction in China. The 8th version under the theme of "Intelligent manufacture and digital construction" will take place from 21 to 23 November 2019 at NECC in Shanghai. Over 90,000 business visitors from every industry of the whole supply chain such as architecture, real estate, general contractor, PC factory, apartment, elderly care, hospital, government, import and export are expected to visit. Thanks to the active participation of leading brands, and closely followed national policies, expanded regional influence, and integrated domestic and global advantageous resources, BIC has become the first choice to expand your business!
Highlights:
1. InnovAction Hub-Innovative technology and product annual ceremony
2. Application of complete scenario demonstration of prefabricated decoration in apartment, workspace, hospital and elderly care.
3. Global brands pavilion and hosted delegates group
4. Embracing industry networking by community operations
Event Name: The 8th International Building Industrialization of Construction Exhibition Asia
Event Date: 21-23 November 2019.
Event Venue: National Exhibition and Convention Centre – Shanghai
Event Link: https://www.bicchina.com.cn/en/
Organizers: VNU Exhibitions Asia
Organizer Link: http://www.vnuexhibitionsap.com/