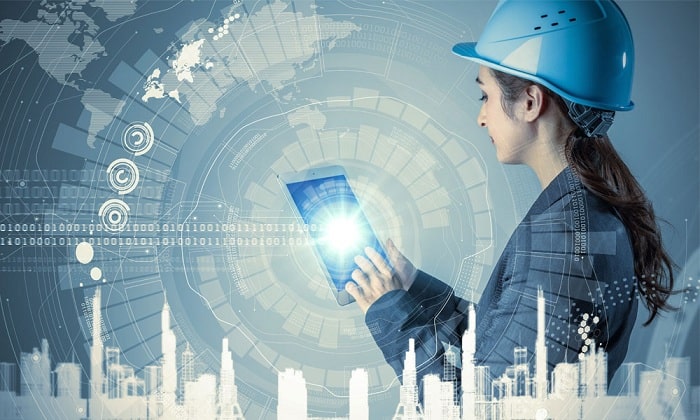 World Construction Today / Article / Internet of Things (IOT) – Internet of Things or IoT is creating a lot of buzz in the world that we live in today. Not only is it a term which is only used in a professional environment but beyond it too. IoT can be called as the connection of devices through the internet with an objective to control one device from another which may be at a distance. For instance, at your home, you can control lights, adjust thermostats through smartphones today even if you are 10 Km away from there. The possibilities of IoT are immense today and are not limited to our home or offices but everywhere else. Come to think of it, even a construction site is no stranger to this technology and its application is used in a wider way than expected.
As stated, IoT is the connection of devices and at construction sites; these provide benefits to the project and most importantly the manpower. Real-time reporting, automated workflow, improved building lifespan, and continuous improvement are elements which add to the importance of having internet of things in construction. It is making significant advancements for contractors who are looking out to improve processes, reducing waste of time and manpower, efficiently and effectively using the man-hours and above all analyzing data for better results in the future.
We are all aware of the countless issues which crop up at construction sites, big or small. What IoT does is to streamline things which lead to a trouble-free flow of making the so-called precarious issues fall in place. It helps Identifying an issue long before it strikes and hence proves to be second to none. And the best part is that it does not require any human intervention making it automated and time-saving too.
Just imagine drone footage right on top of the construction site giving real-time streaming to the engineers and architects involved. Its usefulness cannot be denied and in fact, goes on to prove how technology has come a long way in improving the standards of construction. Likewise, due to IoT one can also monitor material and equipment usage levels at the construction site and order them much before they are out of stock. This would help save time as previously in most cases work would get stalled due to unavailability of stock and lead to delay in completion of projects. All said and done, there are a plethora of internet devices at the job site that would transfer accurate data and help in real-time reporting to the stakeholders keeping them abreast with where the project is at and make adjustments if any to keep it on track. Same gets applicable in case of pieces of equipment as well where the sensors installed in them let the engineers know if any service or maintenance is required in them. After all, it makes more sense in fixing machines before they break down rather than waiting for them to give up.
From an employee point of view, IoT helps in monitoring the man-hours and the efforts that are put in by each of them. It is useful in cases to identify if any worker at the construction site is suffering from fatigue and thus prevent an accident. Wearable digital devices in the form of wristbands are a perfect example of how seamlessness can be attained at places like these sites and give out positive results. One of the best outputs of IoT is not only during the construction of sites but post its completion as well. With sensors placed inside the building, one can get useful data on how the material used while construction of the building has got affected to changing weather conditions over a passage of time. IoT has simplified the way construction is done today and there is still a lot it can offer than we can imagine.