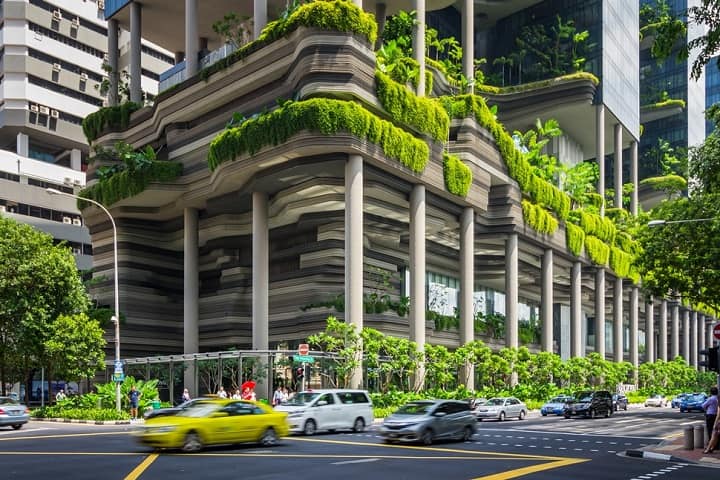 Green Architecture often referred to as sustainable architecture or nowadays called as Green Building is an approach that minimizes harmful effects on human health and environment. A builder often indulges into buying materials that safeguard water, air, and earth while constructing this piece of architecture.  Some of the most common attributes that one can expect a green building to have can range from water-saving plumbing fixtures to ventilation systems designed for efficient cooling and adequate lighting to alternate power sources such as solar and wind power to efficient use of space and more. All this and of course a minimal or no damage to the natural habitat while erecting the structure.
There are predominantly four aspects that one should take into account while constructing a green building. Site Development should be the top priority where onus should always be on minimizing the impact on the environment and making optimal use of the conditions to take advantage of solar access, wind patterns, and shading. Simultaneously, material selection should be done with due diligence. Taking recycled products with negative environmental impact should be the preferred choice. Also, incorporating energy-efficient designing into the building must be given a lot of thought as it helps in lowering long term operational cost quite significantly. The design should adhere to hygienic standards as well which would lead to better air quality. These are primarily the brackets around which construction of green building essentially revolves around.
When we talk of way forward under this umbrella, a lot of push is given to solar these days. Corporates and even the Government machinery is working towards making people solar driven. It will be only fair to say that a green building is incomplete unless it has a proper solar segmentation in it. These green buildings through solar energy make sure that the interior environment is comfortable throughout all the seasons and in a way also help in saving the electricity cost by a considerable margin. Another important step that today's architects are taking towards their green inclination is by building green walls. Vertical greenery is a way in which the plants are introduced on the building façade. In fact, this standout approach has captivated the minds of a lot of audiences these days as it looks aesthetically pleasing as well. They not only look creative but are also a perfect example of how efficiently space can be utilized in order to make these green buildings look superior in every sense. Then there is always a provision of having a green roof in these buildings where besides having a lush garden one can also utilize the space for gardening which would help lower the temperature inside the structure.
Let's be clear that green building isn't just a development trend but it is more like an approach that suits the demand of its time. Come what may, the demand for green building will continue to increase with time and will never fade away. At least the inclination towards having a safe tomorrow has already begun and these structures are a testimony to that. The world today does not develop at a snail's pace. Every day there is some new launch or an advanced product being designed. The resources are getting scarce and unless there is a change in Man's thinking and behavior, the intended lifestyle which one looks forward to leading looks dubious. These green buildings in no doubt are a step forward towards attaining that much-needed respite from the erstwhile polluted and cramped structures that people are used to staying today. Adopting the green building concept is the way forward and one should not refrain from practice as promising as this.