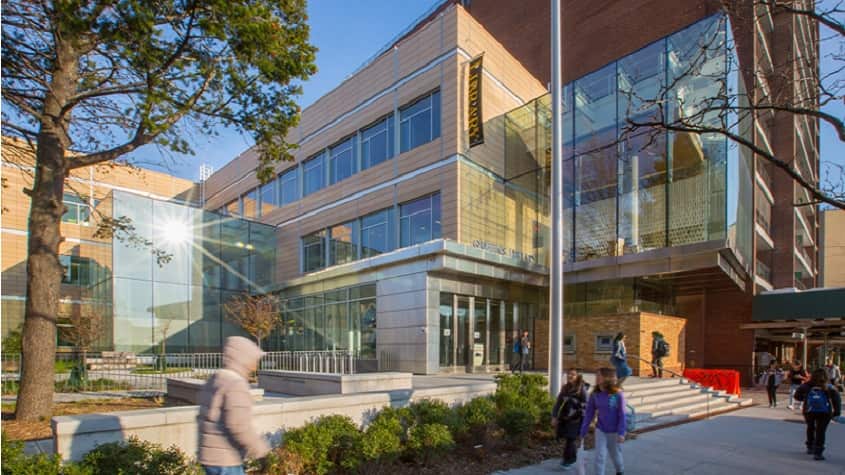 The new Elmhurst Community Library, designed and built by the NYC Department of Design and Construction for Queens Library, has been selected by The Architect's Newspaper to receive its 2017 Best of Design Award in the publication's Civic – Educational category.
The 32,000-square-foot Elmhurst Community Library re-opened in December 2016 following a $32.4 million renovation project by the DDC that tripled its size; made the building ADA-accessible; created separate reading areas for children, teens, and adults; and constructed a new main reading atrium, and new front and rear gardens. The building also features cyber, media, and adult learning centers, a "memory wall," and a learning garden among its 13,000-square-feet of outdoor space.
The project also brought the building up to LEED Silver standards for environmental sustainability, adding two green roofs, high-efficiency heating and air conditioning systems and automated building management systems for peak sustainability.
"This handsome new library takes full advantage of its site with its richness in textures and colors, and provides a welcoming cultural and educational resource for this Queens community," said Irene Sunwoo, Director of Exhibitions at the Columbia University Graduate School of Architecture, Planning and Preservation (GSAPP), and a juror on the publication's judging panel.
A Percent for Art installation entitled "Collection of nine hundred and fifty five shapes" by Artist Allan McCollum as part of his Shapes Project is featured throughout the building. To ensure that no two shapes will be alike, McCollum designed a system of 300 individual parts that may be combined to produce over 31 billion different shapes. The artist hopes that the Shapes Project installation may come to symbolize the community of Elmhurst, its goals for unity, and its love of diversity. The installation received a Design Award from the Public Design Commission.
The library was designed by Marpillero Pollak Architects, Severud Associates, ADS Engineers, and Steven Winter Associates under DDC's Design and Construction Excellence 2.0 program, which pre-selects and pre-qualifies design firms that DDC works with on projects with construction budgets of up to $50 million. The program is designed to decrease the amount of time required for DDC to procure design services, while ensuring the highest levels of quality and professionalism in construction projects managed by the agency. The contractor was Stalco Construction.
All firms in the program are committed to incorporating DDC's Design and Construction Excellence 2.0 Guiding Principles into their work. DDC's Guiding Principles are a series of non-prescriptive guidelines designed to ensure that public projects are designed and built to the highest standards that comply with Mayor Bill de Blasio's vision of a sustainable, resilient, equitable, and healthy City.
The Elmhurst Community Library also received the Excellence Award from the American Institute of Architects in June 2017.
 About the NYC Department of Design and Construction
The Department of Design and Construction is the City's primary capital construction project manager. In supporting Mayor de Blasio's lenses of growth, sustainability, resiliency, equity and healthy living, DDC provides communities with new or renovated public buildings such as such as firehouses, libraries, police precincts, new or upgraded roadways, sewers, water mains in all five boroughs. To manage this $15 billion portfolio, DDC partners with other City agencies, architects and consultants, whose experience bring efficient, innovative, and environmentally-conscious design and construction strategies to city projects.