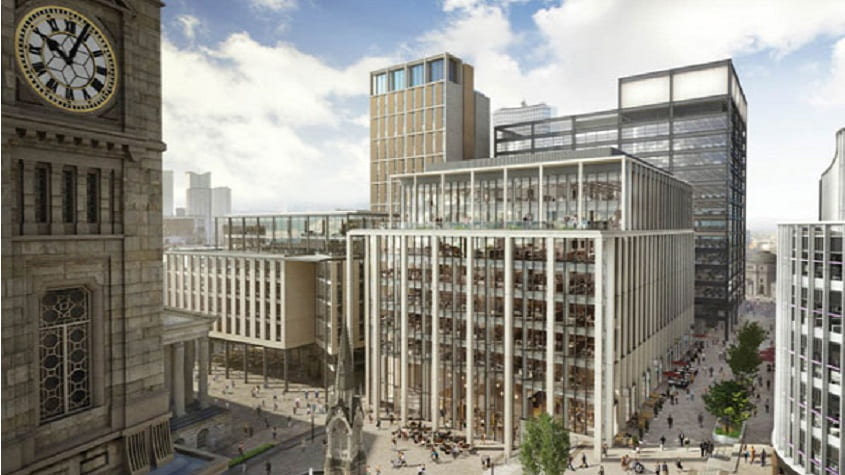 Construction group BAM will begin work this week on the second building at Paradise, Birmingham, Two Chamberlain Square.
The striking 183,000 sq ft contemporary office building joins One Chamberlain Square in fronting the enhanced new public realm that will complete the first phase of the Paradise development. Between them, the speculative buildings offer more than 350,000 sq ft of office and retail space and form the city's most prestigious commercial address and are due to be completed in late 2019.
BAM, which was appointed back in 2017, will oversee a team of over 200 construction workers, which will deliver the building and erect two new tower cranes that will arrive on site in April to aid construction. The two basement levels have already been created as part of the site enabling works to Paradise and therefore the building frame will soon be evident on the Birmingham skyline.
Rob Groves, Regional Director of Argent, Development Managers for Paradise, said: 'The start of work on Two Chamberlain Square, our second speculative office building, underlines the momentum gathering around Paradise and marks yet another milestone for the city's most vibrant, mixed use development.
Two Chamberlain Square will be an exceptional building, leading the way in modern workplace design and performance. As it takes its place on the city's ever changing skyline over the next year, it will deliver a prestigious commercial address at the civic heart of Birmingham.'
The first building at Paradise, One Chamberlain Square, topped out in December 2017. It has been fully pre-let to international professional services firm PwC which will relocate its existing 1,400 strong Birmingham team and up to a potential further 1,000 people to accommodate its regional growth.
Chris Taylor, Head of Private Markets at Hermes Investment Management, said: 'Paradise continues to transform the centre of Birmingham with striking new buildings and enhanced public realm. BAM's start on delivering Two Chamberlain Square is a clear indication of our confidence in the region and our commitment to delivering this remarkable new development.'
Argent has previously worked with BAM on several projects both in Birmingham and across the UK. BAM built seven of the eleven buildings at Brindleyplace, as well as buildings at King's Cross in London.
Rod Stiles, Regional Director for BAM Construction in the Midlands, said: 'BAM is already working closely with the Paradise team to deliver this prestigious, landmark building. We're bringing ultra-modern construction techniques to this complex site in the civic heart of the city, surrounded by some of the country's most beautiful Victorian buildings.
Argent and BAM started our industry leading partnership in 1994 with the first new building at Brindleyplace and we have now delivered over 30 award winning buildings together. We expect this productive partnership to make Two Chamberlain Square equally successful.'
Birmingham City Council leader Cllr Ian Ward said: 'The exciting Paradise transformation is the perfect symbol of Birmingham's growing ambition and confidence. Big things are happening in this city and our regeneration is really gathering pace. The Paradise development further enhances Birmingham's reputation as a leading business destination. We're creating jobs and opportunities, and as our skyline changes, so do the prospects for our young and growing population.'
Designed by Birmingham-based Glenn Howells Architects, Two Chamberlain Square is an eight storey building bringing a landmark addition to Birmingham's historical core.
Large open floorplates of approximately 24,000 sq ft make up the upper floors complemented by 16,000 sq ft of retail space at ground level with access to both Chamberlain Square and Centenary Way. It will also feature a panoramic terrace on the sixth floor giving stunning views across to the Grade II listed Museum & Art Gallery and Council House and the Grade I listed Town Hall.
At 1.8 million square feet, Paradise will deliver up to ten new flagship buildings, offering offices, shops, bars, cafés, restaurants and a four star hotel across 17 acres in the heart of Birmingham.
The Paradise redevelopment is being brought forward through Paradise Circus Limited Partnership (PCLP), a private-public joint venture with Birmingham City Council. The private sector funding is being managed by Hermes Investment Management which has partnered with Canada Pension Plan Investment Board (CPPIB) on the first phase of the development. Argent is the development manager.
Paradise sits in the country's largest city centre Enterprise Zone and has already benefited from investment by the Greater Birmingham and Solihull Local Enterprise Partnership (GBSLEP) in enabling and infrastructure works.
A website showcasing the vision for Paradise, in addition to a live time-lapse camera, can be viewed at www.paradisebirmingham.co.uk
Hermes Investment Management
We are an asset manager with a difference. We believe that, while our primary purpose is helping beneficiaries retire better by providing world class active investment management and stewardship services, our role goes further. We believe we have a duty to deliver holistic returns – outcomes for our clients that go far beyond the financial and consider the impact our decisions have on society, the environment and the wider world.
Our goal is to help people invest better, retire better and create a better society for all.
We offer clients access to a broad range of specialist, high conviction investment teams with £30.8 billion* assets under management. In Hermes EOS, we have one of the industry's leading engagement resource, advising on £317.1 billion* of assets.
Hermes' investment solutions include:
Private markets – Infrastructure, private debt, private equity and real estate
High active share equities – Asia, global emerging markets, Europe, US, global, and small and mid cap
Credit – Absolute return, global high yield, multi strategy and global investment grade
Multi asset – Multi asset inflation
Stewardship – Active engagement, intelligent voting, sustainable development and advocacy
* Please note the total AUM figure includes £6.0bn of assets managed or under an advisory agreement by Hermes GPE LLP ("HGPE"), a joint venture between Hermes Fund Managers Limited ("HFM") and GPE Partner Limited. HGPE is an independent entity and not part of the Hermes group. £76.3m of total group AUM figure represents HFM mandates under advice. Source: Hermes as at 30 September 2017 with the exception of two portfolios totalling £12.5m valued as at 30 June 2017.
Argent
Argent (Property Development) Services LLP is one of the UK's best respected property development companies.
Argent developed and managed Brindleyplace which offers more than 1.1 million sq ft of office space, 30 restaurants, bars and cafés as well as leisure and recreational facilities. Brindleyplace is internationally recognised as an award winning benchmark for urban regeneration and has been responsible for leading the way in Birmingham's continued transformation.
The Argent team – now restructured as a Partnership – has been developing for 30 years. Argent has built a strong track record in mixed use developments that combine office, residential, retail, leisure, hotels, cafés, restaurants and managed open space; and has become a leading practitioner of city centre regeneration. It aims to be the most respected and successful developer in the UK.
Argent focuses on just a few, exceptional schemes at any one time, working with landowners and other partners. In addition to the eight million sq ft emerging at King's Cross in London, Argent's CV includes the rejuvenation of Piccadilly (One Piccadilly Gardens, Piccadilly Place, The Hub, The Hive) and One St Peter's Square in Manchester; Brindleyplace and Paradise in Birmingham; the redevelopment of brownfield sites in the Thames Valley; and major commercial developments in the City of London.