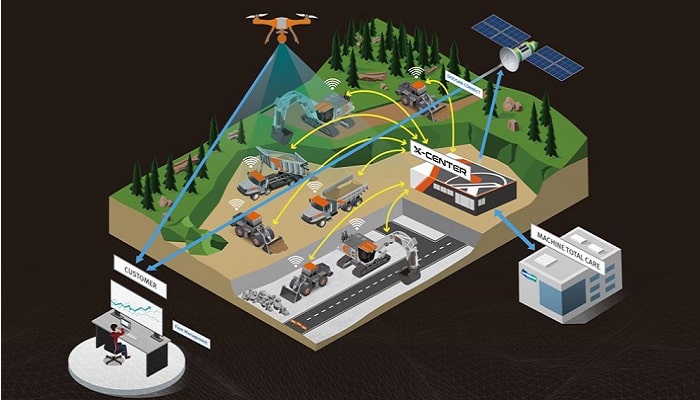 Launched only last month, Doosan Infracore's innovative smart construction solution named XiteCloud has already reaped its first fruit with the conclusion of a contract for a public infrastructure project site.
On June 17, Doosan Infracore announced that it had signed a XiteCloud service contract with IL KWANG E&C Co., Ltd., which is in charge of the earthworks for a multi-purpose residential complex – part of the LH Public Housing Site Preparation Project in Yangwon, Jungnang-gu, Seoul.
XiteCloud is a construction site management solution that integrates 3D drone surveying, earthwork volume calculation, construction planning, etc. into a dedicated cloud platform in order to establish an optimal construction progress plan and promote efficient field work at a construction site.
It can complete construction surveying and earthwork volume calculation in a day or two, whereas traditional methods take around two weeks. The cutting-edge technology can also increase productivity through systematic construction management. In the future, Doosan Infracore will equip XiteCloud with additional optimal construction equipment operation planning and control features using 5G communication technology and telematics, among others.
Doosan Infracore is set to analyze the current status of the 50,000m2 site, on which IL KWANG will build the residential-commercial complex buildings, using three-dimensional modeling to produce a report on the calculation of the earthworks while providing necessary cloud platform services.
IL KWANG plans to use XiteCloud to confirm the volume of earthwork with the client before the project officially kicks off, and has stated that it will gradually expand the scope of its application of the cloud service. IL KWANG is confident that XiteCloud will enable it to calculate earthwork volumes far more quickly than before and manage construction progress in a more sophisticated manner.
"This contract is extremely meaningful in that it involves the first sale of our cutting-edge service to an external customer," declared an executive of Doosan Infracore. "We aim to secure additional customers in diverse fields and strengthen our pioneering position in the growing market for smart construction solutions."
XiteCloud is the first phase in the commercialization of Concept-X, an unmanned and automated comprehensive control solution for construction sites, which Doosan Infracore successfully demonstrated for the first time in the world in 2019. With XiteCloud, the company plans to expand its business portfolio from the production and sales of construction equipment to the construction site management business.