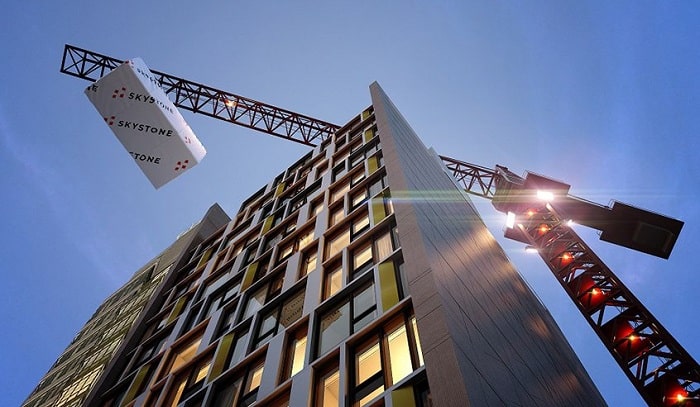 The AC Marriott New York on 6th Avenue will have 168 rooms over 26 storeys. The hotel rooms, complete with finishes and furniture, are being manufactured in Poland and will be shipped to New York for craning into position around a concrete core.
Announcing its involvement in the project this week, Autodesk said Skystone is using AutoCAD and Revit for design-to-assemble for preconstruction, and BIM 360 for construction management.
Autodesk said this keeps all project data in one place and helps teams coordinate design and execution. Skystone, which is both main contractor on the project and Marriott's approved modular manufacturer, started production on the rooms in late 2017.
The company described the process to GCR as "like making an iPhone or car". Skystone manages seven separate processes procured from different specialist companies, including the fabrication of the modules' steel cages, their interior fit-out, and exterior façades.
The modular design, manufacturing and shipping element of the project represents approximately 45% of project value, Skystone said.
Marriott began researching modular construction in 2014, the company said, to offset lengthening hotel construction times, a trend it attributed to a building boom and labor shortages. It said the average time to build and open a hotel in North America increased by as much 50% since 2011.
It has been promoting modular construction to its hotel owners, franchisees and the construction supply chain since 2015.
"Prefabrication is a process that Marriott has found typically reduces the construction timeline, curbs site waste and noise, and results in a higher-quality product produced with factory level precision," Marriott said. "The time savings comes from the ability to perform two crucial functions simultaneously – building the public spaces on site while manufacturing the guest rooms offsite."