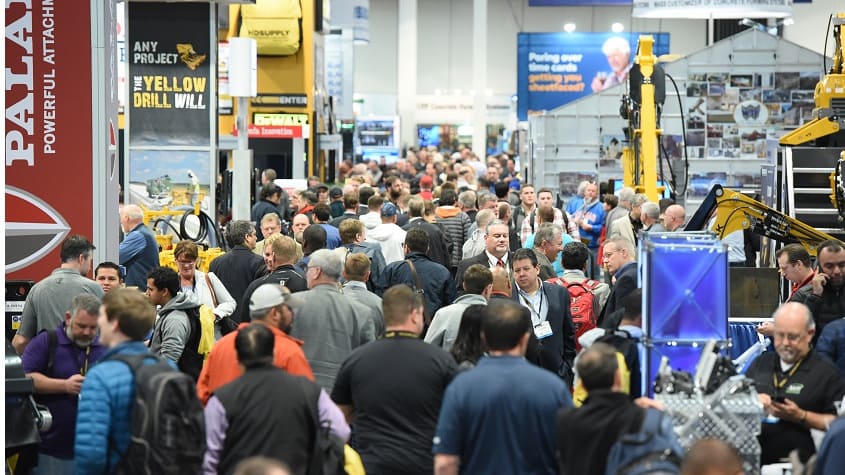 World of Concrete 2019 has all the new products, resources and valuable information necessary to strengthen your business. This is the commercial construction industry's first, largest and most important annual international event for concrete and masonry professionals across the globe!
World of Concrete attendee registration has officially opened and expectations are this will be the largest WOC event in over a decade. With a strong economy and a viable & active construction sector, the concrete & masonry industries will converge in Las Vegas at the Las Vegas Convention Center January 22-25; Seminars 21-25, for this highly-anticipated annual event.
Las Vegas, home to World of Concrete, is a resort city famed for its vibrant nightlife, centered around 24-hour casinos and other entertainment options. Its Main Street and focal point is The Strip, just over 4 miles long. This boulevard is home to themed hotels with elaborate displays such as fountains synchronized to music as well as replicas of an Egyptian pyramid, the Venetian Grand Canal, and the Eiffel Tower. Designer boutiques reside in the city's numerous malls and retail areas. Famous entertainers headline extravagant musicals, concerts, and comedy shows. Swimming pools and thrill rides offer family-oriented diversions.
With only a few months remaining until WOC 2019, organizers are anticipating significant growth over World of Concrete 2018, the largest event in nine years, with 58,000 registered professionals featuring 1,564 leading-industry suppliers exhibiting across more than 746,000 net square feet of space.
There are some very positive changes to the show floor for 2019 — Masonry is now in Central Hall and Technology is in the North Hall to accommodate both of these growing segments. With new events and a multi-day expansion of the Masonry Madness events happening in the Bronze Lot, this is a must-attend event for all concrete and masonry professionals.
Areas of the show floor will include:
The Producer Center (North Hall): Featuring marketplace of materials, equipment, demos, and seminars for concrete producers.
Technology for Construction (North Hall): Featuring the newest products and tools for the commercial construction industry from top information technology and systems providers.
Precast (North Hall): Featuring the latest products and technologies in the precast/prestressed sector.
Concrete Masonry (North Hall): This area showcases everything for the producers of concrete masonry (block, segmental retaining wall units, veneer, slabs, pavers, and roof tiles,
admixtures, equipment & supplies and pigments.
Concrete Reinforcement (North Hall): features the leaders in concrete reinforcement showcasing reinforcement bending, cutting, straightening, and fabricating machinery, reinforced positioners & locators, epoxy-coated, steel, glass fiber, galvanized bar and all types of reinforcement accessories.
Masonry (Central Hall): Showcasing products, tools, information, and technology for masonry professionals
Material Handling (Central Hall): Offering trucks, excavators and more for material delivery, distribution, concrete placement, and earth moving.
Concrete Repair & Demolition (South Hall) : View a display of the latest surface preparation equipment, scarifying, grinding, sawing equipment, sealants, joint fillers and more.
Concrete Surfaces & Decorative (South Hall) : Features surface protection products, coatings, cleaning solutions, stains, pigments, molds and more products to help you capitalize on this business expanding product segment.
Outdoor Exhibits (Silver Lots 1 & 2, front of Central Hall / Silver Lot 3, front of South Hall): Featuring industry-leading exhibiting suppliers, live demos, heavy equipment, decorative concrete products, Decorative Concrete LIVE!, WOC Official Licensed Merchandise, and more.
Outdoor Events & Exhibits (Bronze Lot, next to South Hall): See exciting championships, skills challenges, creative demos, and events you won't want to miss like the SPEC MIX BRICKLAYER 500 ® World Championship, The John Deere Operator Challenge, Western Star Trucks Get Tough Challenge, MCAA spectator events, and more.
World of Concrete is proud to have been selected to participate in the 2019 International Buyer Program (IBP). As a member of the 2019 IBP, World of Concrete Show Management and the U.S. Commercial Service will work closely in the global promotion of the 2019 show to bring international buyers and U.S. exhibitors together to expand business both domestically and overseas.
World of Concrete welcomes international delegations to the show and makes every effort to assist those interested in recruiting and organizing a group of 15 or more to attend the concrete and masonry industries' largest, annual international event. Delegations are organized by country through the U.S. Commercial Service International Posts.
You won't find professional education like this anywhere else—the WOC Education Program is the best in the concrete and masonry industries, offering 180+ sessions, Interactive Workshops, Certifications, Seminars, Train-the-Trainer, and Hands-On & Industry Training to build your technical skills and business know-how.
World of Concrete 2019, January 22-25; Seminars 21-25, at the Las Vegas Convention Center. Register by 12/3/18 to save on Exhibits-Only fees and book your hotel through onPeak early for the best rates and locations at www.worldofconcrete.com