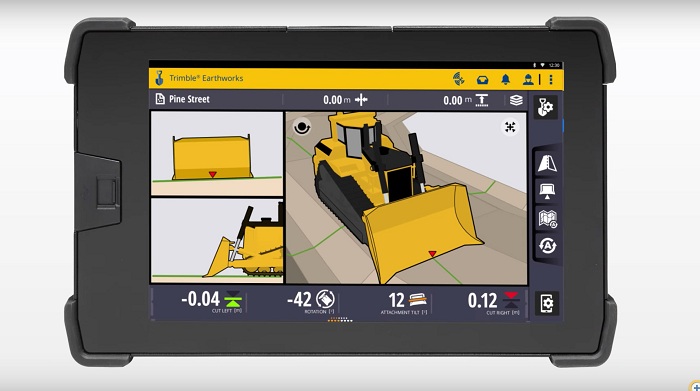 Trimble's Earthworks Grade Control Platform version 2.0 introduces new features for all machine types, including the Trimble Earthworks Assistant App which provides an easier way to access critical Earthworks learning material and documentation, allowing for a shorter learning curve and less downtime for operators. These improvements are designed to enable faster ROI while increasing productivity and decreasing training time for operators.
A first in the construction industry, Trimble's Horizontal Steering Control for dozers automatically controls the machine to follow any horizontal alignment such as a back of a curb, breakline, roadway centerline or bottom of slope, without operator assistance. Horizontal steering allows the operator to focus on the grade and machine productivity rather than worrying about steering, reducing operator fatigue and errors. It also enables the machine to follow the horizontal guidance from the 3D model, providing operators increased awareness of their surroundings, better accuracy and improved productivity with decreased overlap and fewer passes.
Another first, Augmented Reality for excavators enables users to easily understand 3D models, cut/fill information, slope data and other bench points and reference points on the in-cab display in context, without the need to interpret complex 2D plans or stakes. AR was first released in the Trimble SiteVision system and is now available on excavators with Trimble Earthworks. Using a camera mounted on the outside of the machine, operators can view 3D models in a real-world environment at a true-life scale, in the context of existing surroundings. On the Trimble Earthworks display, the model is overlaid onto the existing ground giving the operator a better understanding of the work that needs to be done. Visibility of the bucket gives operators better situational awareness to be able to keep surrounding people and objects safe.
Additionally, a new mastless motor grader configuration also gives operators an improved range of blade motion, allowing for machine control in applications where it was previously not possible. The configuration mounts one GNSS receiver on the cab and one on the gooseneck of the machine to eliminate masts and cables traditionally located on the blade. Mastless GNSS receivers are ideal for the blade's maximum range of motion, which is needed for steep slope work and complex designs with tight tolerances. The new configuration enables contractors to decrease risk of damage to the machine, keep valuable receivers safer as well as reduce the time needed to remove and reinstall them each day.
Also introduced at CONEXPO-CON/AGG 2020 is the Trimble Platform as a Service, an offering that gives contractors the ability to purchase select civil construction hardware and software solutions and continually upgrade those solutions with the latest technology from Trimble.
Using the Trimble Platform as a Service, hardware and software updates are included so contractors can standardize their entire fleet and field workers on the same hardware and software versions, resulting in less time needed for training and support.
Predictable, fixed technology costs enable customers to create more accurate bids, which can lead to more jobs won with a higher profit margin. Once the bid is won, contractors can complete the job faster by leveraging the latest software and hardware from Trimble. In addition, the service provides easy tracking of hardware to reduce the time and effort required to locate technology across distributed teams and remote worksites. At the same time, asset utilization increases when contractors know what construction technology have, where it is and how it is being used. Flexible contract terms allow project teams to take advantage of an affordable, fixed monthly price for the duration of the project.
Trimble WorksOS
Previewed at the exhibition was Trimble WorksOS, a new Software-as-a-Service (SaaS) operating system. The cloud-based system will integrate data from Trimble and third-party providers across the entire civil construction project lifecycle, including estimating, scheduling, designs and the field. The Trimble WorksOS preview will demonstrate 3D productivity and real-time progress to plan to bring next-generation, real-time visibility from the jobsite to the back office.
Currently, site supervisors and project managers jump between multiple systems to keep track of daily production quantities, labor/equipment hours and equipment maintenance schedules. In spite of using all of these systems, they still do not have real-time visibility into progress on the jobsite and its impact on schedule/cost. With WorksOS, users will be able to log into a single application to view real-time visibility of cut, fill, volume and compaction data to maximize jobsite productivity.