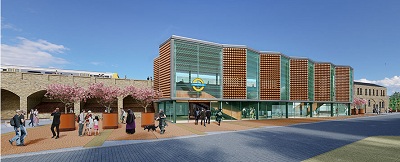 Transport for London (TfL) has announced Taylor Woodrow as the successful bidder to design and rebuild the station by spring 2019.
TfL and Taylor Woodrow will work together to redevelop the station, which is used by 1.3m customers a year, delivering improvements including a new ticket hall and station entrance as well as step-free access from street to platform for the very first time.
The redevelopment directly supports the regeneration in the area, which includes plans for the new Tottenham Hotspur stadium, a museum, hotel and 585 new homes, as well as 2,000 homes as part of the High Road West masterplan and a further 3,000 homes in the wider North Tottenham area.
Improvements will include:
A new ticket hall located at the centre of the platforms on Love Lane, creating a better connection with Tottenham High Road;
A new additional entrance providing access to Penshurst Road for the first time;
Two new lifts delivering step-free access from the street to platform;
Direct access from the new ticket hall to provide more central access to platforms, reducing bottlenecks and meaning passengers can move between the street and trains more quickly;
A new station forecourt to greatly improve the public realm on Love Lane, creating a better and safer environment for pedestrians and cyclists; and
New cycle parking, improved CCTV and Legible London wayfinding to help people continue their journeys on foot.
Work is expected to start on site in autumn 2017, with the improvements complete in spring 2019.  The station will be available for fans travelling to and from the stadium when it opens in summer 2018 as it will continue to operate throughout the majority of the improvement works. TfL will be introducing brand new trains on the London Overground route through White Hart Lane station to replace the existing trains which are now over 30 years old.