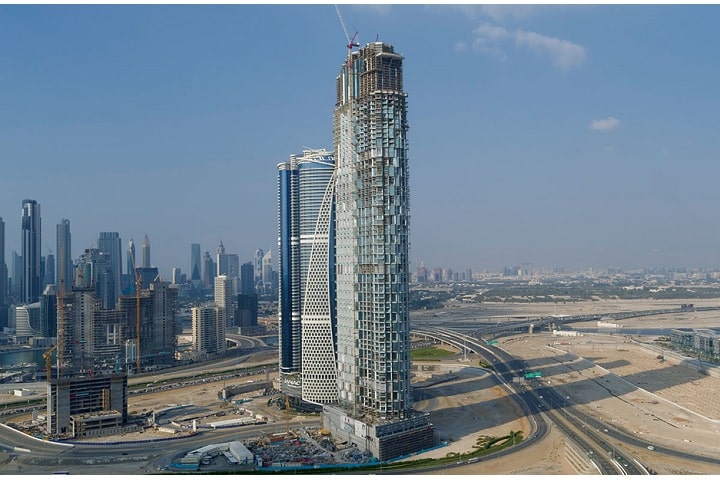 Dubai is home to innumerable real estate developments. While most of them are popular for their design and the structure itself, many others are known for the location they are being developed in.
For Dubai-based real estate developer World of Wonders Real Estate Development (WOW RED), which is building the $550 million (Dh2 billion) SLS Dubai Hotel & Residences in the emirate's Downtown district, everything from the location to loft-style living, design, and vertical construction of the super-structure makes it another addition to the Dubai skyline.
Speaking to Construction Week during an exclusive site tour of the SLS Dubai Hotel & Residences, director of development at WOW RED, Osman Celiker, says: "We have four zones. We have a residential zone on the lower part. We have the hotel apartment zone in the mid-part, we have the hotel zone on the upper side of the tower, and we have the public floors which we refer to as 'The Crown'." Celiker stresses that none of the tower developments in Dubai have such kind of features.
SLS Hotels is part of the American lifestyle hospitality giant SBE that develops, manages and operates hotels, residences, restaurants and nightclubs. "SBE will manage hotel and hotel apartments within SLS Dubai Hotel & Residences tower," Celiker adds.
Walking towards the under construction tower, Celiker points at the nearby area that mainly caters to the storage of materials and installation of site offices. He tells Construction Week that the plot area of the tower is 5,600m2, with the plot being owned by WOW RED that is building 187,000m2 of gross construction area.
Meanwhile, the developer hired an adjacent plot from Meraas for unloading and storing the materials. Pointing towards another nearby plot, he says: "We have rented this plot for the mobilisation of site offices from DPG. So the mobilisation area is actually bigger than the plot area."
Sharjah-based Liberty Building Systems, which is located in Hamriyah Free Zone supplied the modular buildings that are used as site offices across SLS Dubai Hotels & Residences. The company is a manufacturer of portacabins and prefabricated houses.
The main contractor of SLS Dubai Hotel & Residences is Günal Construction, which is a part of Turkey-based MNG Group of Companies. Celiker says: "Günal Construction has worked on several infrastructure projects in Dubai and due to that experience and strength, we appointed them." While London-based architecture firm AEDAS is the lead designer of the super-tall structure. Dubai-based Next Engineering is the main consultant and architect of record of the development, and Innovate Living is the project manager.
SLS Dubai Hotel & Residences features a diverse range of residential apartments with a total of 371 units that include studios, one-bedroom apartments, two-bedroom lofts, and two-bedroom duplexes. Once completed, the super-tall development will also be home to 575 hotel and hotel apartments.
Dubai-based Bishop Design by Paul Bishop has completed the interior designing of SLS Dubai Hotel & Residences. Speaking to Construction Week Bishop says: "I approached the SLS project in a very different way as there was no benchmark for any SLS hotel across the world. They all have their own independent spirit and identity, and I think that's the real poignant aspect of what they are."
One of the main aspects of the design and construction of the 75-storey development is space. From studios to one-bedroom apartments, to two-bedroom lofts, and two-bedroom duplexes, WOW RED has picked space as one of the most significant elements of SLS Dubai Hotel & Residences' design.
Celiker says: "I think the design from the beginning was keeping in mind how the residents would feel when they enter into the apartment. And they have the space to breathe in." "You need to optimise the size, but space is a very important aspect within SLS Dubai Hotel & Residences, we give them integrated living spaces."
Walking towards the one-bedroom loft apartment on the seventh floor — residential units are constructed starting from this floor — Celiker says: "As part of the structure of the building the core is centralised in the middle and the units are distributed around it. The core is only for utilities and lobbies other than that all units are located in single-loaded corridors. We have two corridors and each corridor is facing only one unit." There are 25 units on each floor from seventh till 58th.
Celiker says: "Our team took six months to plan the design and implementation of the project before submitting it to the authorities for sanction." He continues: "We started with one foundation. We built the basement, ground floor, and podiums. As we reached the sixth floor there was a transfer slab and there was another foundation. So with that transfer slab we have oriented all the units to a 45-degree angle." This the director of development at WOW RED says was carried out until the 69th floor to reach another transfer slab before The Crown, which includes open area.
"Everything within SLS Dubai Hotel & Residences is of certain quality and this is not the usual scene that you see in the environment of Dubai," Celiker tells Construction Week.
Celiker explains that doors within each apartment are from WinGuard and they are keyless, which means that residents can access the doors using cards. He says, each apartment in the SLS Dubai Residences comes with European-made fixtures and fittings, which includes kitchen sinks by Franke of Germany and sanitary ware by Villeroy & Boch, while sanitary systems is supplied by Six Swiss Exchange-listed (SWX) Geberit.
The full range of in-built kitchen appliances, including dishwasher, double-door refrigerator, electric hob, oven, washing machine, and dryer, are supplied by Swedish home appliance manufacturer, Electrolux.
"All bathroom features, including rainfall showers and furnishings are provided by Italian brand, Gessi," Celiker adds. WOW RED picked Coopersburg, Philadelphia-based Lutron's home automation technology. Celiker says that Abu Dhabi's Unibeton, a building materials company, provided cement; Saint-Gobain supplied glass; wood is supplied by The FITOUT — a fully owned subsidiary of Union Properties; and flooring by Italy's Lea Ceramica. Cladding and façades for the super-structure is supplied by Technical Glass; and Abu Dhabi-headquartered CICON supplied steel, with paint being provided by National Paints.
In fact, the 28 elevators within the skyscraper are supplied by Finland's Helsinki-listed manufacturer of autowalks, automatic doors and gates, escalators and elevators, KONE.
Celiker excitedly says that these elevators will feature artworks by Turkish-born and Los Angeles-based artist and designer, Refik Anadol. Anadol is the owner of Refik Anadol Studio and also serves as a lecturer at the Design Media Arts Department at the University of California, Los Angeles (UCLA).
SLS Dubai Hotel & Residences is a work in vertical construction. As it is a skyscraper, the development is different from mid-rise buildings. The process was not easy for WOW RED, which is a part of MNG Group of Companies, and came with its set of challenges.
Celiker says: "The challenge was in the enabling works' stage. We have dug more than 30-metres to reach for the foundation level and there was water." He adds that due to the shape of the plot, the neighbourhood, and the area's proximity to Al Khail Road the company carried out shoring works on the plot.
Enabling works was carried out by another MNG Group subsidiary, ZEMTAS. Doka Hydraulic climbing system was used from seventh to 68th 'typical floors' during the construction work.
"We are working on an average of 20 hours a day between two shifts, with each shift being 10 hours." According to Celiker, 3,500 to 4,500 workers are deployed on the site.
AE Arma-Elektropanc is providing mechanical, electrical, and plumbing (MEP) works for the development, alongside MEP consultant HIDI REA, a part of The HIDI Group. The development is connected to Empower's district cooling plant in Business Bay.
Overall construction work on the development is 81% complete. Celiker says: "We started construction in May 2017. We are on-track for delivery in Q3 2020, ahead of Expo 2020 Dubai."
"Construction of the tower has been ongoing for 33 months, with the building having officially 'topped out' in April 2019 after rising a floor every 5.7 days, as we have casted 61 slabs in 349 days. This is a record."
Referring to SLS Dubai Hotel & Residences' unique design and architecture, Celiker says: "We are somehow redefining the architecture in Dubai". He concludes: "And the tower that we are building is not just a tower, it is a destination."