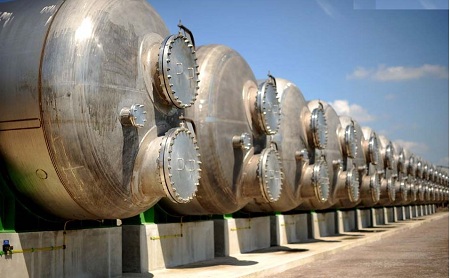 A joint venture between a division of Italy's Salini Impregilo and Spain's Abengoa has signed a $225m agreement with ACWA Power for the development of a desalination plant in Shuaiba, Saudi Arabia.
The Salini unit, Fisia Italimpianti, and Abenoga will design and build the plant for ACWA Power on behalf of the Saline Water Conversion Corporation, the Saudi state-owned water utility company.
Located in the Shuaiba area on the western coast of Saudi Arabia, the plant will use reverse osmosis technology to deliver up to 250,000m3 of water per day, and supply potable water to more than one million residents in the cities of Mecca, Jeddah and Taif.
The joint venture has signed a 'limited notice to proceed' agreement for the preparatory work, and expects to sign the 'full notice to proceed' by July 27. The plant handover is scheduled for May 2019.
This order confirms Fisia Italimpianti as one of the world's leading builders of large desalination plants, with a combined built and projected capacity of more than four million cubic metres per day across both thermal and reverse osmosis.
Salini Impregilo as a whole is a leading global player in infrastructure construction, and especially in the water sector, where it has been recognised by the Engineering News-Record as the global leader for four consecutive years.It recently worked on the Panama Canal expansion, as well as the Grand Ethiopian Renaissance Dam.
Salini Impregilo has been involved on other public transport and infrastructure projects in Saudi Arabia, including the Riyadh Metro project, on which the contractor completed the tunnel excavation work for Line 3, the longest line at 42km in January.
In March Salini also signed a $435m contract with the Meydan Group to build the Meydan One Mall in Dubai.The Italian company was previously also involved in the Strategic Tunnel Enhancement Programme (STEP) and Sheikh Zayed Grand Mosque in Abu Dhabi.
The Group has experience in railways and metro systems, bridges, highways, industrial complexes and airports, and has 110 years of applied engineering experience on five continents.
Earlier in April, Doosan Heavy Industries & Construction Company also secured a $422m construction contract for another seawater reverse osmosis desalination plant, in Shuaiba, Saudi Arabia.Salini Impregilo is an industrial group specialising in the construction of major, complex projects, a dynamic Italian company able to compete with leading global players.
About Salini Impregilo
Operating in over 50 countries with 35,000 employees, a turnover of around € 6.1 billion and a backlog of € 37 billion*, Salini Impregilo is a global player in the construction sector  and  the leading global infrastructure company in the water segment.The Group bases its activities on a strong passion for construction which is reflected in its wealth of international projects. Dams and hydroelectric plants, hydraulic works, railways and metro systems, airports and motorways, civil and industrial buildings are the sectors in which the Group has been operating in for over 100 years.The management and the entire Group are committed to operating in accordance with environmental, ethical and professional principles, which comply with the highest international criteria for corporate governance and citizenship.