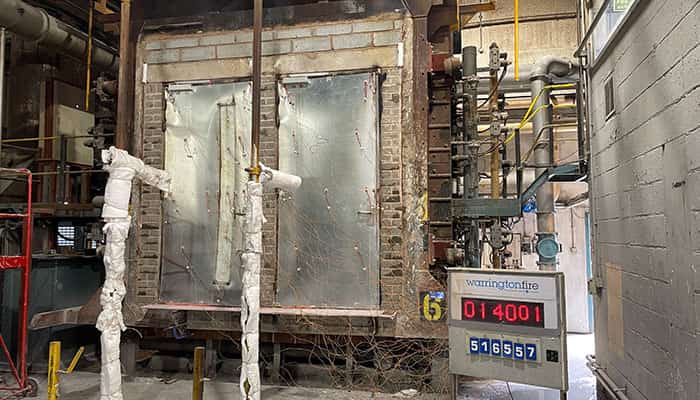 The UK's leading manufacturer of engineered doors, Rhino Doors has completed all necessary fire tests on its high-performance integrity and insulation-rated fire door, following recent successful tests conducted on its single leaf variants.
The doors – which are now available in both single and double leaf variants, with or without vision panels – are rated at 90 minutes duration for both insulation and integrity when tested in accordance with EN1634-1.
Most importantly, at only 63mm thick, the doors are both architecturally attractive and technically proficient for use in high-visibility commercial environments.
So, what does this mean for specifiers, architects and others who select portal and entry solutions for buildings?
All fire doors must achieve integrity ('E') ratings to prevent the passage of flames from the fire side to the unexposed 'fire free' side of the door. These ratings sit on a graded basis against elapsed time periods; the higher the rating, the longer the door has prevented the passage of flames to the unexposed side of the door.
However, there is an additional threat to life other than fire and smoke: radiated heat.
Radiated heat poses a serious fatality threat. A report by the International Association of Oil & Gas Producers (IOGP)i found that fatalities will occur when individuals are exposed to radiated heat above 6 kW/m2.
As radiated heat and exposure time increase, so does the certainty of fatalities. Exposure to radiated heat at 35 kW/m2 results in instant death.
The results of Rhino's recent tests saw the radiated heat level (measured at 1,000mm), being 50% lower than the results achieved by the current market leading El door.
As a result, with the launch today of Rhino's new El rated fire door to market, it will offer the best possible protection against radiated heat than any other fire door available whilst still maintaining a useful, traditional integrity rating of 90 minutes.
Commenting on the results of the tests, and the potential industry-wide implications, Group Engineering Director, Dr Chris Norris, said:
"It is relatively easy to design and produce an integrity and insulation resisting fire door at 90 minutes or more, if the client is unconcerned with the appearance of the final product.
"For example, the appearance of cross passage escape fire doors along the length of an active rail or road tunnel is often relatively unimportant (because they are not on view) and hence easier to engineer when you are not restricted by how the final door looks.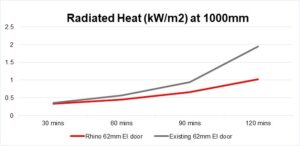 "Designing a high-performance, insulated fire door to provide >90 minutes protection, whilst still maintaining the appearance and profile of a traditional commercial steel door, is a far greater challenge.
"We're delighted to have completed this development project, which has allowed us to launch this product to market and, as a result, significantly improve the protection offered to users, compared to traditional, integrity-only fire doors."
Rhino's new El-rated insulated steel fire door is expected to go into production this summer.