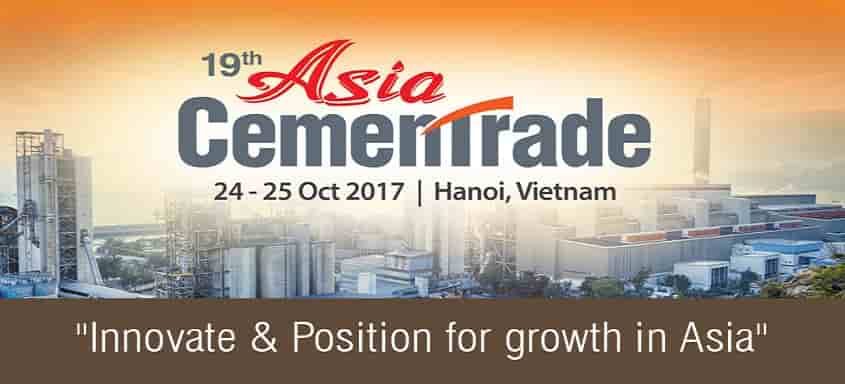 CMT's annual 19th Asia CemenTrade Summit on 24-25 October, 2017 at the Pan Pacific Hanoi – brings fresh perspective on tackling surplus supplies, regional exports as well as pressures to reduce carbon footprint.
Vietnam is expected to have a total cement production capacity of 86 million tonnes in 2017, and keen to export. At the October meet in Hanoi, Mr. Nguyen Quang Cung, Chairman, Vietnam National Cement Association explains further with paper on 'Vietnam's Cement Market Demand/Supply Forecast' – detailing new projects, construction boom and impact of new export tariff. Next presenting its strategy in the region and export trends is Mr. Ryan Dat, Deputy CEO of Vissai Cement Group.
India's cement market is reviewed by Mr. Yogesh Mehta, Joint Vice President (Commercial & Logistics), Shree Cement while the 'Promising Outlook in Indonesia's Cement Industry' is shared by Mr. Christian Kartawijaya, CEO & President Director, PT Indocement Tunggal Prakarsa. Additionally, Cambodia's construction industry boom and its impact on cement demand is presented by Oknha Kuch Sinith, CEO, Camcem Co.
The summit also has Mr. Imran Akram, CEO, IA Cement sharing cement industry's global market outlook with key reviews for USA, Latin America, Europe, Africa and Asia as well as projections for 2018. Further, Dr. Adam McCarty, Chief Economist, Mekong Economics presents Global Economic Outlook highlighting USA economic forecast under the new administration and Brexit and regional issues such as Asia post-TPP, among others.
The other notable sessions are:
China's Cement Market Trends & Overseas Expansion Drive – Institute of Technical Information for Building Materials Industry of China Meeting Cement Demand in Nepal – Cement Manufacturers' Association, Nepal and Cosmos Cement Industries
Rising Cement Demand in Pakistan – D.G. Khan Cement Company
Tomorrow Matters – FLSmidth
Sustainability Initiatives for the Cement Industry – ResourceCo Asia
Asia Coal & Petcoke Markets Outlook with Focus on South East Asia – PT HMS Bergbau Indonesia
Freight Markets & Its Impact on Buyers/Sellers – Norden Shipping Organized by Centre for Management Technology (CMT), the summit welcomes exhibitors BWF Environmental and Industrial Technology (Wuxi) and Al-Ghadeer Packaging Materials Factory.
Visit 19th Asia CemenTrade Summit website or call Ms. Grace Oh at +65 6346 9147 for more details.