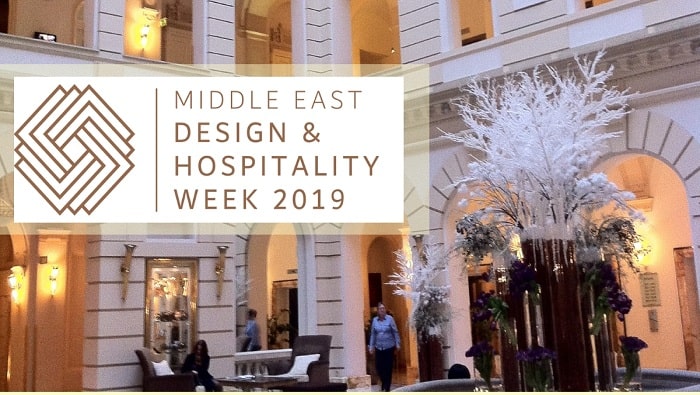 International events company dmg events has announced that Middle East Design and Hospitality Week (MEDHW), comprising of seven prestigious design and hospitality events, will take place from 17th – 19th September 2019 at Dubai World Trade Centre.
MEDHW will set the stage for the multi-million-dollar growth expected in the GCC's design and hospitality sectors by offering exhibitors and visitors a comprehensive and highly specialised platform for industry leading discussions, knowledge-sharing, B2B introductions, and B2C interactions. The seven events that make up MEDHW are INDEX, The Hotel Show, WORKSPACE, The Leisure Show, Surface Design, FIM, and INDEX Home.
According to Ventures Onsite, 'GCC building construction projects expected to be completed across all sectors are forecast to be worth US$ 74.9 billion in 2019.Interior design and fit-out industries are expected to thrive as the demand for new residential properties, hotels, schools and hospitals continues to grow.'
Ventures Onsite also indicate that, the value of GCC hotel projects, expected to be completed in 2019, is worth US$ 13.3billion and the overall interiors and fit-out spend in the region's hotel sector is an estimated US$ 3 million this year.
Tony Crinion, Portfolio Director, dmg events said, "The interior design and fit-out industries in the region are set to experience a positive wave of demand, and our intelligence partner Ventures Onsite predicts the UAE and KSA will be the highest spenders in these markets in the Middle East. It was an opportune time for us to present a conclave of all events that address design and fit-out requirements across all sectors in the GCC."
Nathan Waugh, Portfolio Director, dmg events said, "Dubai is set to welcome an iconic event, Expo 2020, and the GCC will see many new hotels launching in the region. It was ideal for us to congregate our key design and hospitality events under one umbrella for businesses in these sectors to receive optimum exposure and mileage. And the best part is that people attending one event will have access to the other six events taking place during MEDHW."
The theme for the first edition of MEDHW is 'The Shape of Things to Come.' It explores how companies in the hospitality, interiors and leisure sectors will be using asymmetry, typography, geometric shapes and 3D patterns in the planning, sourcing and inspiration stages to create unique and stimulating environments leading up to landmark events in the region.
The event enjoys over 50 years of combined show heritage with prestigious events like INDEX being in its 29th year, The Hotel Show,which this year turns 20, WORKSPACE which will be celebrating 21 years, and The Leisure Show now in its 7th edition.
For more information, visit: http://www.designhospitalityweek.com/
About dmg events
dmg events is a leading organiser of face-to-face events and a publisher of trade magazines.
We aim to keep businesses informed and connect them with relevant communities to create vibrant marketplaces and to accelerate their business across multiple platforms.
dmg events organises more than 80 events across 25 countries, attracting over 425,000 attendees and delegates every year. The company's portfolio of products includes many industry leading events such as The Big 5 construction shows, ADIPEC and Gastech energy events.
Founded in 1989, the company is headquartered in Dubai, UAE, and is a wholly-owned subsidiary of the Daily Mail and General Trust plc (DMGT, www.dmgt.com), one of the largest media companies in the United Kingdom.
About DMGT
Daily Mail and General Trust plc (DMGT), an international portfolio of information, media and events businesses listed on the London Stock Exchange.
DMGT manages a diverse, multinational portfolio of companies, with total revenues of around £1.5bn, that provide businesses and consumers with compelling information, analysis, insight, events, news and entertainment. DMGT is also a founding investor and the largest shareholder of Euromoney Institutional Investor PLC and ZPG PLC.