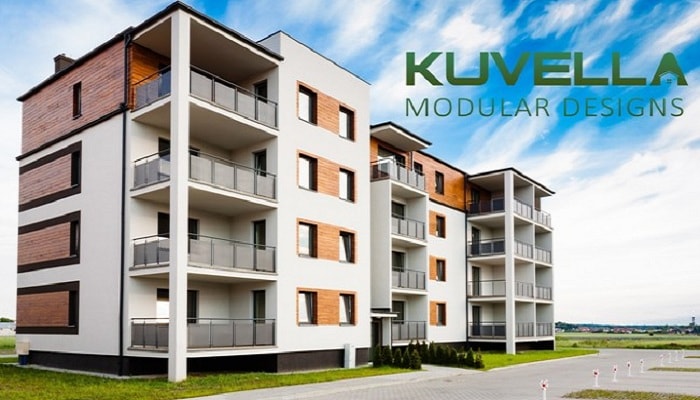 Kuvella Modular Designs, a leader in sustainable modular construction, and Z Modular, a division of Zekelman Industries and leader in modular steel construction, announced an alliance between the two companies to streamline the modular construction process and broaden availability of their products throughout North America
Z Modular's proprietary Vectorbloc steel modular construction systems, provides extremely tight tolerances and ensures even stacking of modules. It's also flexible, allowing for the design of virtually any type of building. Coupled with Kuvella Modular Designs' commitment to sustainable and energy efficient construction, this partnership will greatly reduce the carbon footprint of the built environment while creating jobs across America.
"We are excited to be adding Kuvella as a member of our Affiliate program and foresee the partnership between Z Modular and Kuvella as an exciting new chapter in scalable offsite manufacturing using the Vectorbloc system. The Kuvella team are progressive thinkers who share our vision for productive employee and customer relations and the role of automation in off-site construction. Our Affiliate program allows our partners to efficiently begin building using the Vectorbloc system. Kuvella's participation in this program will enhance the combined standard of service that will be delivered from all facilities," said Mickey McNamara, President of Z Modular.
Modular construction has seen a rise in popularity in recent years due to advantages that include reduced construction costs, more reliable and faster on-average project schedules, and decreased maintenance costs for building owners. With the labor shortage and associated rising labor costs driving construction project budgets sky-high across the United States, modular construction has found a place in the spotlight as an affordable and sophisticated method of construction.
"My vision for Kuvella is to change the perception Millennials and upcoming generations have about their approach to working in the construction industry. I want them to see modular construction as robotics engineering and automation, instead of looking at construction trades and thinking about manual labor," said Michael Sanchez, Chairman of the Board and Founder of Kuvella Modular Designs.
Expanding modular construction offerings into major cities across North America can help attract a younger work force to the industry, creating positions for highly skilled tradespeople to fit out modules, too. For urban cities struggling to meet increasing demands for affordable housing as well as commitments to sustainable initiatives, modular design is an attractive option offering solutions to both.
"Together, Z Modular and Kuvella Modular Designs will build precision steel, sustainable and energy efficient residential and commercial structures. This will allow us to immediately address two (2) major areas around the country: Affordable and Workforce housing and Student housing. Furthermore, our partnership with Z-Modular will help us to greatly reduce the carbon footprint, by reducing our reliance on wood," said Kareem Abdus-Salaam, CEO of Kuvella Modular Designs.
About Kuvella Modular Designs
Kuvella is a New Mexico based company passionate about providing sustainable modular solutions that are both durable and affordable. Kuvella uses proprietary technology and specialty expertise to deliver innovative modular buildings and structures for multi-family, high-rise, hotel/hospitality and student housing markets. Our modular system is a durable, non-combustible, mold resistant, reusable and re-locatable, environmentally sustainable solution.
About Z Modular
Z Modular is a one-stop shop for modular buildings and services that utilizes a self-bracing structural system which allows for more factory completion than other modular construction systems. We help building developers reduce the cost of design, fabrication and building assembly with fully finished modular buildings – that's how we MAKE IT eZ. Z Modular is a division of Zekelman Industries, the largest independent steel pipe and tube manufacturer in North America.