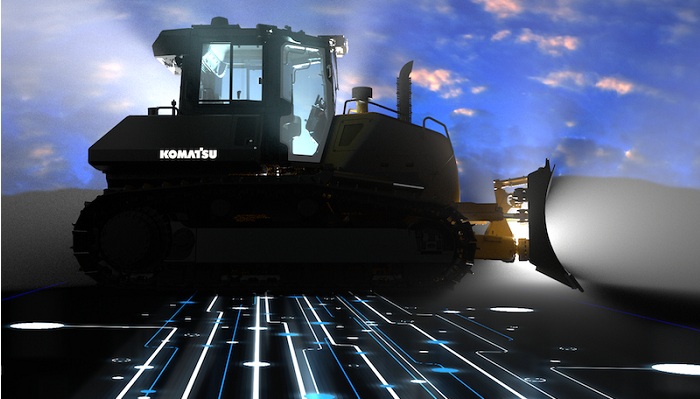 When long-time friends Joe Riccardo, Mike Heddon and Mark Tyler set up RHT Contracting in mid-2018, they knew they needed a winning edge when bidding for contracts – so they went for the most innovative and technically advanced construction equipment available, a Komatsu Australia case study reports.
That saw them choose Komatsu's intelligent Machine Control (iMC) dozer and excavator technology when bidding for a large contract to construct tailings storage facilities (TSFs) for a major mining operation in Western Australia.
Currently RHT runs four Komatsu iMC machines: two D65PXi-18 swamp dozers, a D155AXi-8 dozer, and a PC360LCi-11, as well as Komatsu wheel loaders, dump trucks, graders, and other excavators on the one site.
Not only does using iMC technology give RHT significant safety, productivity, efficiency and accuracy advantages in TSF construction, it also provides the company's mining clients the security and peace of mind that their critical facilities have been built to the highest and most exacting standards.
Today that is essential for any mining operation, following catastrophic failures of tailings dams in South America in the past five years, which have killed many people and caused widespread environmental devastation.
To ensure their integrity and long-term performance, it's essential that TSFs be constructed following an established process, which involves placing the dam material in 300 mm thick layers; these are then compacted, and the top 100 mm scarified to ensure a strong lock with the subsequent 300 mm layer.
Using Komatsu iMC machines in this application, each 300 mm layer can be placed, quickly and efficiently, within tight tolerances, ready for compaction.
And unlike conventional 'bolt-on' machine control systems, the iMC system prevents dozer blades or excavator buckets from 'over-digging' into the already compacted and scarified layers, ensuring they are not compromised during placing of the next layer.
When RHT was formed, Riccardo, Heddon and Tyler (the company's name comes from their surname initials) saw the opportunity to use Komatsu's iMC technology as a real competitive advantage.
"These days, you've really got to innovate," Heddon says. "Clients want to see that you are innovative and you're not a dinosaur.
"I've been going to shows like CONEXPO and BAUMA for years, and I see all the latest stuff, and I was wondering how good it actually was. Then we spent some time with Dean Jones and Colin Brindle (from Komatsu Perth), to find out what their iMC technology could do.
"We were convinced enough to buy a D65PXi-18 swampy and a PC360LCi-11 excavator, plus a Topcon base station, which were delivered in February 2019, and took them to the site.
"We also put on Fraser Mead, a young surveyor, who's passionate about technology, plus he's really into drones and how they can really help with the whole mine infrastructure construction process."
As of mid-June, Mead and RHT are trialling Komatsu's EDD (EveryDay Drone) technology, a high precision UAV (drone) survey system providing industry-leading super-fast on-site processing using Komatsu SMARTCONSTRUCTION's Edge technology.
"Initially the operators weren't convinced about the iMC machines; they said 'stuff this, I'm an operator, I don't need that', but then after a few days of seeing what the technology could do, they were going 'wow!'," Heddon says.
"On the first dam we built, we never put a grader on it, did the whole batter with just our first D65EXi dozer and the PC360LCi excavator. I have never, ever done that before; they are exceptionally good. The dams look great, the batters look great, we're never having to do rework, we get it right – from the start to the end. It's always spot on."
Expanded fleet
Following the success of its first D65PXi-18, RHT bought a second D65PXi-18 in September last year, and the D155AXi-8 in February this year.
"At the moment, we've got all these machines working on site, building up to three dams at one time," Heddon says. "With the dozers, we are using them for winning material from borrow pits, while the excavator is pulling up batters."
Building tailings dams for larger mines requires large amounts of earthworks – with dam walls up to 4-6 km around, along with haul roads, so there is a lot of earth to be moved.
RHT's two smaller iMC machines, with their swamp tracks, are proving ideal for the precision final trim work to millimetre level accuracy, while the larger D155AXi-8 (pictured) is being used for the bulk earthworks on the dams and haul roads, according to Komatsu.
"On the newer dams we are building, we are using clay oxide materials, which are heavier to work with, which is why we brought in the D155AXi," Heddon says. "Plus, we can also use it for building haul roads. We can just map in a haul road route and design, and the machine can go out and build it, even in rock and clay."
One thing RHT has found is that the D155AXi-8 has not so far been giving quite the final trim accuracy of the D65PXi-18s.
"Certainly, it is extremely accurate compared with any conventional dozer next to it, but because we have seen how precise the D65s are to a few millimetres, we were expecting that with the D155. However, because it is bigger, it corrects slightly differently," Heddon says.
"It's still good, still within coo-ee of what we need, but we know at the moment it's giving a slightly rougher surface, so you've got to take things a bit slower, use a lower gear to get there.
"On the bulk side, Komatsu's intelligent Machine Control works really well, absolutely on this bigger dozer. You can just set it, and it does exactly what we need. It's on the fine control, where I think we can get it going even better.
"Because this is all so new, it's something we are working with Komatsu to perfect."
Heddon also says iMC ensures that rework and over-excavation never occurs – eliminating overruns and field survey work.
"With Komatsu's intelligent Machine Control acting as a rover, we know we are always building to the exact specs; we are never over-building, and everything is always exactly level and ready for rolling.
"We don't require anyone to go out there with a dumpy level checking levels and all that stuff," he says.
No micro managemenent
The other big advantage is having all the works designs already in the machines, ready for the operators as soon as they need them. "That's a big saving because the operators have everything at hand in the machines to do the work," Heddon says.
"In the old days, we'd have two teams out there pegging the site, one for the day shift, and another for the night shift. "Now we just put in a couple of reference pegs, then once the operator has the levels, it's all good to go."
And, as each part of the job is completed, it can be immediately checked and audited – and the records remain readily available at any time in the future for clients or geotechnical engineers.
"This technology means that the as-built track mapping is all there from the start. When you're building a tailings dam, it's essential that layers go down in 300 mm lifts, before the next one goes on top," he says.
"We can see all this on the computer and know that it was done precisely. So, in future, if there is ever a question with a dam, we can go back in there and show that it was done exactly right. There's no need for anyone to go in and micromanage. It is a great system.
"The other great thing about these iMC machines is that essentially they act as a mobile rover because everything is done within the machine.
"So, the surveyor can be away on another mine site, and if the operator finishes a job, the surveyor can jump in remotely, and work together with the operator to set things up for the next job. So, people are not sitting around waiting for someone to get back after lunch to start up again."
Greatly increased site safety is another huge advantage with iMC, according to Komatsu. "Safety is paramount for us," Heddon says. "And not having people working on the ground around dump trucks, excavators, wheel loaders, dozers and other machines, is a major safety component. It's just unreal."
Heddon has also observed interesting reactions from operators using the iMC systems, and RHT's clients. "When these machines first came to site, people said it was just more stuff to go wrong. But then after a few days, they all agree the benefits are countless.
"And our clients have been really impressed with the quality, efficiency and technology the iMC machines offer. "With this technology, we have the trucks deliver to the site, the dozers push it out – and it's so level that the trucks can keep working, whereas before we'd have to call in a grader to give the trucks access.
"Everyone is stoked with it, the whole concept. We've since bought a second base station, and we're putting that in our second site."
The future
Heddon sees tremendous potential for Komatsu's iMC technology in future projects. "This is really moving into the future, that's the only direction we want to go now.
"And particularly after those catastrophic dam failures in Brazil, the more you can prove the quality of your work and show that to the geotechs and the clients, the more successful we can be.
"They really need the confidence that these dams are getting built correctly at all times, not just some of the time. "It's giving the mining companies that security and peace of mind that their dams are built right, so they know they have their dams constructed to worlds best practice.
"We're very committed to this technology. We want to see it on all our earthmoving machines, and we are very keen to see it on the larger excavators, at least up to PC490 size," Heddon says.