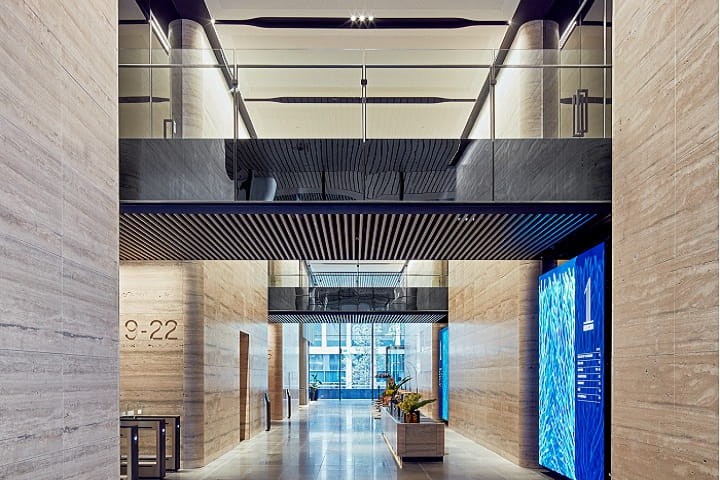 Winten Property Group has welcomed the first tenants – Nine and SAP into its iconic 21st century $1.2 billion commercial office tower – 1 Denison in North Sydney, defined by a unique intricately patterned curved glass façade by internationally acclaimed architecture firm Bates Smart.
Multiplex constructed the 158-metre world-class commercial office tower, making it the tallest building in North Sydney. Almost 4,000 construction workers and more than 38,000 cubic metres of concrete have been used in the delivery of 1 Denison.
Nine (24,949 sqm), SAP (9,374 sqm) and Microsoft (10,715 sqm) have leased over 78 per cent of the building.  In April 2021, Microsoft is expected to move in. When fully occupied more than 6,000 tenants will utilise the intuitive open plan offices and eclectic mix of eateries, restaurants, bars and cafes on the lower levels.
Barlume by The Grounds is also now operational with a total tenancy of 360 sqm, combining a restaurant and bar, lower ground kitchen, retail area and small terrace space. 1 Denison has a total net lettable area of 60,686 sqm across 39 storeys.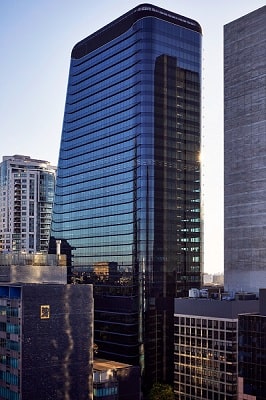 Multiplex Regional Director NSW David Ghannoum said, "We are delighted to have delivered this landmark project for Winten Property Group. Multiplex faced several construction challenges in the delivery of the project, including installing the curved glass façade and working within a very tight and busy site. It's fantastic to see 1 Denison now standing proudly on the skyline and setting a new benchmark for the revival of North Sydney."
Stuart Vaughan, Development Director at Winten Property Group, comments, "1 Denison is a visionary  project that has added significant value to North Sydney's commercial office district. The world-class commercial tower is meticulously designed by architectural practice Bates Smart. The inspirational design has captivated tenants, become a talking point amongst North Sydney businesses and set a new benchmark for premium grade commercial office space.
"Workers are progressively moving into the smart offices equipped with world-leading technology with over 1,000 people now occupying the first-class facilities. Early next year, we will unveil the unique holistic wellness hub, Nest by 1 Denison and a sprawling laneway retail precinct."
He added, "Despite the challenging environment, Multiplex was able to work within government guidelines and deliver the iconic building ahead of time. Their professionalism and world-class expertise ensured a high-quality commercial office tower was delivered for tenants."
"Our design for 1 Denison creates a new urban precinct in North Sydney," says Philip Vivian, Director at Bates Smart and 1 Denison's design architect. "The building's warm, green and humane base will be home to cafes and restaurants that revitalise Denison Street, whilst the sophisticated tower will read elegantly on the skyline. This building reinvents the high-rise office for the 21st century to be more humane at street level, more generous to its neighbours and more environmentally aware."
The premium grade commercial office tower features a perimeter core with floor plates ranging from 1,336 sqm to 2,518 sqm across three rises, a two-level lifestyle precinct and basement parking for 225 cars. A 5 Star Green Star rating from the Green Building Council of Australia has been achieved and a 5 Star NABERS rating and Platinum WELL rating is expected to soon follow.
1 Denison is positioned in the new commercial heart of North Sydney and located between Victoria Cross Metro station and North Sydney Train Station.
About Winten Property Group
Winten Property Group is one of Australia's premier property development companies. The business has grown from the architectural talent of its principal into a multi discipline family owned company with $3.2 billion worth of projects currently underway.
The company specialises primarily in three market sectors including residential high density, residential land subdivision and high-rise commercial office buildings along Australia's east coast.
Much of the Winten culture is seen in our high-quality residential apartments, which command prime positions throughout Sydney's Eastern suburbs and lower North shore. However, a large part of our development activity is focused on the creation of new communities through the delivery of greenfield land estates.
About Multiplex 
Multiplex has been delivering landmark property and infrastructure assets for more than 50 years. We are a leading international contractor with a focus on sustainable growth and a presence in Australia, the Middle East and Asia, Europe and Canada.
Established in 1962, our work to date comprises more than 1,000 projects with a combined value of US$66.2 billion.
We have expertise across the residential, health, retail, commercial, tourism, education, engineering and infrastructure sectors, and as a group we have earned 670 industry awards.